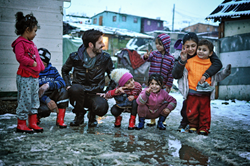 Roma Boots combines fashion with philanthropy to help eradicate the cycle of poverty afflicting impoverished children and orphans.
Dallas, TX (PRWEB) April 10, 2014
The Dallas based boot company, Roma, is helping in the fight against poverty with their "Buy One, Give One" Program.
Driven by love, Roma (which is amor spelled backwards) has made it their mission to not only provide discerning patrons with fashionable rain boots, but in turn share the love by giving a pair to children in need. Their unique humanitarian business model thrives on a "buy one, give one" creed and is also backed by their personal, educational nonprofit organization that empowers these kids to break out of the cycle of poverty.
Changing the life of a child all begins with one of Roma's gorgeous and durable Rain Boots. Available in a multitude of brilliant glossy hues, these boots are designed to draw attention while keeping feet warm and protected from inclement weather. These boots are made from 100% natural rubber and crafted with a quick-dry cotton lining and multi-layered cushioned insoles, ensuring they are both comfortable and built to last.
With the completion of each sale, Roma gives a pair of boots to an impoverished child, usually in areas that suffer from cold and wet climates. This isn't just a gesture of goodwill, but a stepping stone towards a better life. With each pair sold, Roma also donates 10% of the sales to the Roma Boots Foundation, a nonprofit organization that helps provide books, school supplies and education to the children who receive their boots.
Roma Boots was founded in 2009 by Romanian-born Samuel Bistrian as a way to combine his love for fashion with compassion. He received his first pair of hand-me-down rain boots at the age of six while living in Transylvania, and when the Communist regime fell at the age of eight he came to America in search of a better life. Now that he has grown up and embarked on a career in the fashion world, Bistrian has finally found a way to help other children from his home country reach for their own dreams.
Roma Boots has donated thousands of boots to children in need.