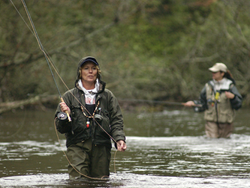 Women are discovering the art of Fly-Fishing.
Pulaski, NY (PRWEB) April 11, 2014
Women's Fly-fishing consists of riverside lodging, home-cooked meals, a seminar led by Vicky Lane, renowned fly fisher-woman, and plenty of time spent fishing the Salmon River. The weekend kicks off with a "meet and greet" session Friday evening. A light supper will be served as participants settle in for the evening. There is a fire-pit, rec room, and a large deck overlooking the river. Saturday begins with breakfast and a classroom session. After lunch, everything shifts outdoors to the lawn to practice newly learned skills. The Salmon River is right behind the Lodge so those who wish to test themselves on trophy Steelhead Trout will have the opportunity. After a four course dinner, it's time to relax to the sounds of a crackling fire and rushing river. Sunday, it's back to the river followed by a cook-out, raffles and awards. Prizes are by Melinda's Fly and Tackle Shop, Altmar, NY, Whitakers Fly Shop Pulaski, NY and All Seasons Sports, Pulaski, NY. Seminar registration for those not staying at the Lodge is also available.