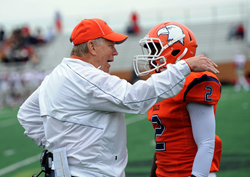 We needed a new playing surface and we felt like Shaw Sports Turf offered the best and most advanced surface out there with the Bolt fiber.
Jefferson City, Tennessee (PRWEB) April 10, 2014
Ken Sparks still has a few things left to accomplish in his football career, and right now finishing the installation of Carson-Newman's new Shaw Sports Turf playing surface is high on the list. The new playing surface is being installed in Burke-Tarr Stadium, which lies in the shadow of the Ken Sparks Athletic Complex.
"Our old surface outlived its usefulness," said Sparks. "We needed a new playing surface and we felt like Shaw Sports Turf offered the best and most advanced surface out there with the Bolt fiber."
Sparks said they did a great deal of research on turf systems and thoroughly checked out what was available on the market before making a decision.
"We feel like the Shaw Sports Turf field gives us a performance edge," he said. "Our team can practice and play on a world-class field and it's something our school and supporters can be proud of."
Carson-Newman University is a small, Christian, liberal arts college in Jefferson City, Tennessee, with a perennial powerhouse football team under the tutelage of a coaching legend. Sparks graduated from Carson Newman in 1968. After coaching as an assistant and at two Knoxville-area high schools, Sparks took over as head coach of the Eagles' program in 1980 and is entering his 35th season as head coach.
Sparks has achieved a record of 318 wins, making him the winningest active coach in college football. He comes in at seventh on the all-time wins list, along with such luminaries as Bear Bryant, Pop Warner, Amos Alonzo Stagg, Eddie Robinson, and Bobby Bowden.
Sparks' teams have claimed five NAIA National Championships in six title games, and have finished as NCAA Division II runners-up three times.
Despite the size of Carson-Newman, Sparks is held in high regard in the coaching profession. In 2007, he served as president of the American Football Coaches Association. He's been the FCA's National Coach of the Year, the NAIA and NCAA Division II Coach of the Year, and the South Atlantic Conference (SAC) Coach of the Year 12 times.
Sparks has also been inducted into the NCAA Division II Hall of Fame, the SAC Hall of Fame, the NAIA Hall of Fame, the Tennessee Sports Hall of Fame, the Knoxville Sports Hall of Fame, and the Carson-Newman Athletic Hall of Fame.
Sparks, now 70, came up against his greatest opponent in June 2012, when he was diagnosed with cancer. Though he still battles the disease, he is still extremely active, not only as a coach, but as a supporter of many organizations.
Despite all the success, Sparks is very careful to deflect the recognition. He acknowledges that none of it would be possible without the team he is surrounded by, and none of it would be worth it without his faith.
He's been quoted as saying, "I believe the Lord will ask me one day what I did with the kids under my care, not how many wins I had."
The new field where Sparks and his team will seek another championship will feature Shaw Sports Turf's Bolt fiber. Bolt is a stronger, more resilient monofilament fiber, featuring a lightning bolt shape which creates a stronger vertical axis that causes fibers to stand upright for less breakdown and increased durability. Bolt is specifically built for performance and to reflect light for a lower luster and more natural looking field.
"Providing the new Bolt field for Carson-Newman is something we're very proud of," said Jimmy Marshall, Shaw Sports Turf Territory Manager. "This is a historically strong program with one of the greatest coaches in history. It says a lot that they selected our turf system."
Shaw Sports Turf has installed practice and stadium fields on more than 1,500 playing surfaces for all types of sports and recreational activities, including many collegiate programs such as Vanderbilt, Georgia Tech, LSU, the University of Arkansas, and Furman University. Additionally, Shaw Sports Turf installed the practice and game fields for the Baltimore Ravens. Torrey Smith, a wide receiver for the Ravens, is a spokesman for Shaw Sports Turf.
Shaw is also currently installing a new field at Alcoa High School. The project at Burke-Tarr Stadium is scheduled to be complete by the first week in May.
About Shaw Sports Turf
A wholly-owned subsidiary of Berkshire Hathaway Inc., Shaw Industries is a full flooring provider to the residential and commercial markets. Shaw supplies carpet, hardwood, laminate, resilient, and tile/ stone flooring products, as well as synthetic turf. Shaw Sports Turf is one of the leading synthetic turf companies in North America and has represented quality and innovation for more than two decades with over 1,000 successful installations, including an impressive list of high-profile field installations. For more information please visit http://www.shawsportsturf.com, call 866-703-4004 or find us on Facebook.