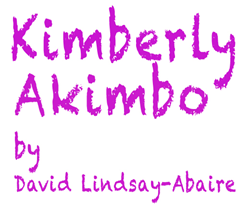 'Actors have to act and directors have to direct . I'm so happy we've found each other so we can continue to grow. Can't wait to see who joins in next time.' - Janet Davidson, Director For Giving Productions
Santa Fe, NM (PRWEB) April 11, 2014
No moss grows under the rock solid acting ensemble from For Giving Productions. After a string of standing ovations, next up in The Space, Janet Davidson brings another David Lindsay-Abaire play to Santa Fe audiences. KIMBERLY AKIMBO is a hilarious and heartrending piece about a teenager with a rare condition like progeria, causing her body to age faster than normal. Set in New Jersey, Kim and her family flee Secaucus under suspicious circumstances. Amidst her own deteriorating health, Kimberly must face her life with a hypochondriac, pregnant mother, an alcoholic father, a scam-artist aunt, and the possibility of first love.
The ensemble performing this staged reading of "Akimbo" has been on The Space stage before. Debrianna Mansini, Kelly Kiernan and Patrick Briggs are veteran performers in this company. All three were part of the Art Matters series "Hearts of The West: Stories of the Mail Order Brides". Mansini and Kiernan played in the last highly successful Lindsay Abaire show "Good People," which Mansini then toured to Albuquerque. The ensemble performed "Motherhood Out Loud" last year and it will be brought back in May by popular demand, The show was so successful that Susan R. Rose, who conceived the piece along with Joan Stein, heard about it thru social media and will be coming to Santa Fe for a very special Q and A. Says Mansini, the liason for The Space, "The Space is a flexible location at the present time. We are searching for a permanent home. So be on the lookout. You never know where we may turn up next."
Rounding out this stellar professional cast for "Kimberly Akimbo" is Ann Roylance, a 20 yr veteran and a new young performer, Jason Keen. The shows director, Janet Davidson has a knack for spotting new talent. Says Davdison, "Actors have to act and directors have to direct . I'm so happy we've found each other so we can continue to grow. Can't wait to see who joins in next time." "Rapture, Blister, Burn" featured Tatyana Stavrowsky, a student from NM School for the Arts, who was a hilarious hit. Mansini, who has been working steadily with Davidson, has a film going to London Sundance in Aprl (Drunktown's Finest) and will be the voice of Georgia O'Keeffe in the upcoming PBS film "Awakening In Taos."
The New York Times called Kimberly Akimbo ...the Comedy of the Year. A haunting and hilarious play. Mr. Lindsay-Abaire is an expert at tweaking, skewing and finally inverting established formulas. His plays tend to slide right out of predetermined pigeonholes. KIMBERLY AKIMBO is at once a shrewd satire, a black comedy and a heartbreaking study of how time wounds everyone."
The full cast includes Debrianna Mansini, Kelly Kiernan, Patrick Briggs, Ann Roylance and Jasper Keen. Directed by Janet Davidson
April 25th and 26th 7pm
The Space is currently located In Casweck Galleries at 203 W. Water Street, Santa Fe, NM. Call 505.438.6078 fro reservations- Limited Seating
About New Mexico Actor Debrianna Mansini: Debrianna Mansini (represented by O Agency) is an actress who combines her talent with activism. She is deeply concerned with using the voice of her craft to shed light on women and social justice issues. Her NY roots and training live with her in New Mexico, her enchanted home base, along with her husband, accomplished artist David Forlano. http://www.debriannamansini.com