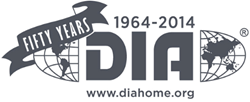 "Access to clinical data allows the patient to improve their health and wellness, and helps them share vital information to drive the dialogue among those who are dedicated to their care."
WASHINGTON (PRWEB) April 09, 2014
Craig Lipset, head of clinical innovation at Pfizer Inc., will join advocates of patient data accessibility to highlight the Blue Button initiative at the DIA 2014 50th Annual Meeting in San Diego.
Blue Button's technology allows patients to access their medical records electronically and share those records with health care professionals. Pfizer piloted the technology in December 2013, when clinical trial participants were first able to download and share their individual electronic data.
The "Enabling Participants' Access to the Electronic Clinical Trial Data: The Blue Button Project" session will be held June 17 at 1:30 p.m. at the San Diego Convention Center. Joining the panel to offer her personal perspective will be Regina Holliday, a patient activist who creates art inspired by her late husband's struggle to access and share his medical records while battling cancer.
"Access to clinical data allows the patient to improve their health and wellness, and helps them share vital information to drive the dialogue among those who are dedicated to their care," Lipset said. "The DIA 2014 50th Annual Meeting is the ideal venue to raise awareness of this initiative, facilitate collaboration, discuss challenges and solutions for implementing this technology and explore the future of a two-way data-sharing environment with patients."
Thomas Krohn, director of clinical development for Eli Lilly and Co., will introduce the Blue Button initiative, and Jennifer Wulff, director of clinical innovation for Pfizer Inc., will discuss deploying Blue Button to advance clinical research.
"These data sets are the story of the patient, and it's important that the patient becomes the holder of their own information to share with their care team," Holliday said. "If we were able to fully access my husband's data, we could have changed his treatment—he might be in remission, or we could have made informed decisions about surgery or considered hospice care. It's now my No. 1 goal—giving patients real-time access to electronic medical records."
Holliday will also be hosting an event new to DIA, The Walking Gallery, on June 16 at 4 p.m. The event aims to bring life to patient stories through painted murals on jackets worn by patient advocates, survivors of disease, caregivers and those who lost loved ones to illness. For more information about The Walking Gallery, contact julie.ho(at)diahome(dot)org.
ABOUT DIA: DIA is the global connector in the life sciences product development process. Our association of more than 18,000 members builds productive relationships by bringing together regulators, innovators and influencers to exchange knowledge and collaborate in an impartial setting. DIA's network creates unparalleled opportunities for the exchange of knowledge and has the interdisciplinary experience to prepare for future developments. DIA is an independent, nonprofit organization with its global center in Washington, D.C., USA; regional offices covering North and South America (Horsham, Pa., USA); Europe, North Africa and the Middle East (Basel, Switzerland); and Japan (Tokyo), India (Mumbai) and China (Beijing). For more information, visit http://www.diahome.org.
ABOUT DIA's 2014 50th ANNUAL MEETING: Celebrate the Past – Invent the Future is the largest multidisciplinary event that brings together a community of life sciences professionals at all levels and across all disciplines involved in the discovery, development and life cycle management of medical products. The meeting aims to foster innovation that will lead to the development of safe and effective medical products and therapies for patients. For more information, visit http://www.diahome.org/dia2014.