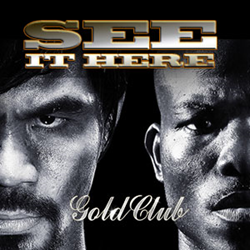 Gold Club has the perfect atmosphere for watching boxing fights!
San Francisco, CA (PRWEB) April 09, 2014
The title bout between Manny Pacquiao and Timothy Bradley is set for 6 p.m. on Saturday, April 12, and Gold Club is the place to view it. The HBO pay-per-view undercard includes Allakhverdiev vs. Vargas, Beltran vs. Martinez and Vasquez vs. Felix.
Pacquiao and Bradley will face each other in a rematch to compete for the World Welterweight Championship. These veterans have a habit of putting on a good fight, and this one is sure to be no different. The featured preliminary fight will have Khabib Allakhverdiev facing Jessie Vargas.
Customers who choose to view the fight at Gold Club will get to see it on the largest HD screen in San Francisco. Gold Club knows how to screen a fight the right way, and fans know there's no better way to see this exciting fight which is sure to be a knockout. Boxing fans should not miss out on this opportunity. To reserve a table, visit http://www.goldclubsf.com/reservations/.
"Gold Club has the perfect atmosphere for watching boxing fights," said Axel Sang, director of marketing for BSC Management. "With fantastic drinks, beautiful entertainers, and not to mention the huge HD screens, our customers love coming in to watch boxing fights like this one."
Find out more about this World Welterweight Championship viewing event and more by visiting Gold Club's website http://www.goldclubsf.com or calling 415-536-0300.
Boilerplate/About Us: Gold Club is San Francisco's premier gentleman's club, featuring some of the most beautiful entertainers in the area. Conveniently located in walking distance of Moscone Convention Center and the Museum of Modern Art, Gold Club is the number one destination for quality adult entertainment. With world class entertainers, full-service dining, personalized bottle service, a complimentary lunch buffet, private rooms and the top DJ's and MC's, Gold Club has everything their guests look for in a strip club and much more. Gold is open 11:30-2 a.m Monday through Friday, 7 p.m. – afterhours on Saturday and 7 p.m. – 2 a.m. Sunday. For more information, visit their website at http://www.goldclubsf.com/.