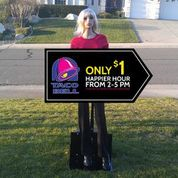 Marketing doesn't have to be complicated. Our product allows local businesses to promote their brand in a creative way, stand out among the advertising clutter and simultaneously increase revenue.
Sacramento, CA (PRWEB) April 24, 2014
Scott Adams originally of Santa Rosa, California and Josh Faherty originally of Willits, California are the Sacramento-based entrepreneurs behind the Velocity Signs "The Original Sign Waving Machine™" offer a new marketing and advertising tool for small businesses nationwide who want to attract positive attention for their products, services and/or events to those passing by.
This invention allows business to increase sales and offer a great alternative to human sign spinners which over time saves businesses money and the hassle of recruiting, hiring, training, and dealing with human resource issues. The Original Sign Waving Machine™ was also featured on the controversial "Men vs Women" episode on the critically-acclaimed business-themed show, Shark Tank which aired Thursday, April 10th at 8:00 p.m. PST on the ABC Television Network.
Above and beyond the standard model options, there are various custom features available for this machine to ensure the highest possible exposure when placed in high traffic areas. These range from LED lights for optimal night viewing, design and development of signage, mannequins, trailers and more depending on an individual company's needs. The machines start at $1599 and range in price from there depending on the model and added customizable features.
"We were thrilled to be featured on the Shark Tank show because we truly believe our product makes an immediate impact for local businesses by increasing sales and saving money," said Scott Adams, Founder & CEO of Velocity Signs. "That our product is now available worldwide allows local businesses to promote their brand in a creative way, stand out amongst the advertising clutter and simultaneously grow their business. The results have been great for our clients – we've seen business owners utilizing their additional revenue funds to hire employees, provide health benefits, give back to their local community, and some are taking a vacation with their family for the first time in years!"
Velocity Signs was selected from a pool of 30,000 applicants for the show's current season. As a hit show on ABC, Shark Tank features "Sharks" (i.e. highly-successful businesspersons and company owners) who are searching to invest in "the next" best businesses and products that America has to offer. The Sharks that were featured in the episode were Mark Cuban, Lori Greiner, Barbara Corcoran, Robert Herjavec and Kevin O'Leary.
Velocity Signs' battery operated, portable, and durable sign waving machines have been proven to increase sales for local businesses by an average of 15% ($90,000 for most businesses) and are proven to save over $25,000 per year when superseding the staffing of sign holders. Notable brands who've utilized this robotic technology include: Ford®, Chevy®, Nissan®, Verizon Wireless®, H&R Block®, Little Caesars®, Subway®, McDonald's®, Burger King®, Togo's®, Baskin Robbins®, Golden State Warriors (NBA), AM/PM®, Papa Murphy's Pizza®, Precision Tune®, Del Taco®, Domino's®, Great Clips®, Sport Clips®, Fantastic Sams®, and Anytime Fitness®.
Shark Tank received a nomination for a Producers Guild Award in 2013 and garnered an Emmy nomination for Outstanding Reality Program and a nomination for a Critics' Choice Television Award for Best Reality Series. Shark Tank is broadcast in 720 Progressive (720P), ABC's selected HDTV format with stereo sound. This program carries a TV-PG parental guideline.