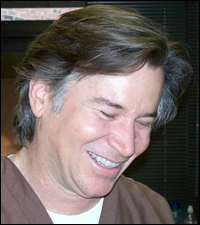 Austin, TX (PRWEB) April 10, 2014
Dr. David A. Baker of Westlake Family Dental Care wants all area residents to use this April as Cancer Control Month as the stimulus needed to schedule an oral cancer screening with their Austin, TX dentist. Ensuring regular, preventive dental care is one way that Austin, TX residents can stay healthy either through prevention or early diagnosis of problems.
An oral cancer screening can be conducted by your Austin, TX dentist while in the office. Dr. Baker can take the time to look for cysts, tumors and any precancerous or cancerous lesions. Areas with a buildup of either red or white blood cells, especially when on the mucus membrane, are also of concern. These are called erythroplakia and leukoplakia, respectively. If any suspicious cells are noticed, diagnostic tests can be performed to gather more information. Cancer is the second most common cause of fatalities in the United States. Thus, the need for regular Austin, TX dental care becomes an important way to guard against the development of some forms of cancer.
Oral cancer can develop in multiple parts of the mouth region. These include on the lips, in the gums, on the front portion of the tongue, on the inside of the cheeks—referred to as the buccal mucosa and beneath the tongue. The roof of the mouth and the small place behind where the wisdom teeth may be are also some sites where oral cancers can be detected. Ensuring that you schedule regular dental care visits can help a dentist not just notice unusual cells but also notice changes in your mouth. Any change in appearance can be a valuable signal in detecting problems early.
Most people in the country have been affected by cancer in some fashion. Understanding the serious nature of this disease is important. That is why Dr. Baker and his staff hope all people in Austin, TX will take advantage of Cancer Control Month and schedule a visit with the dentist. To learn more about oral cancer screenings or other related topics, visit Dr. Baker's website or contact his office for a consultation today.
About The Doctor
Westlake Family Dental Care is a general practice offering personalized dental care for patients in Austin, TX since 1997. Dr. Baker received his dental degree from the University Of Texas Health Science Center San Antonio Dental School and scored in the top two percent of the nation in Endodontics and Periodontics. He is part of one percent of dental professionals providing the LANAP FDA cleared laser procedure for gum disease and periodontal treatment. Dr. Baker stays abreast of the dental techniques and technology by attending at least 30 hours of continuing education each year. In addition to LANAP, Dr. Baker provides services such as fixed lower dentures, mini-implants, and TMJ. To learn more about Westlake Dental Care and their dental services, visit their website at http://www.davidabaker.net and call (512) 782-8422.