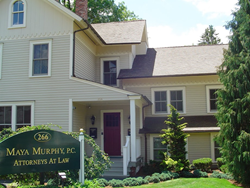 We are very satisfied with the result and pleased that the jury agreed with us that Iryna is entitled to both compensatory and punitive damages - Attorney Russell Sweeting
Westport, CT (PRWEB) April 09, 2014
A jury in the United States District Court in Bridgeport, Connecticut today awarded $84,501 in damages in a sexual harassment and discrimination suit brought against local eatery Orem's Diner of Wilton by a former employee.
In her 2011 complaint, plaintiff Iryna Dymskaya alleged that while she was employed as a waitress at Orem's, male employees made numerous sexually explicit and suggestive comments to her at work, and that one employee in particular repeatedly harassed and threatened her with physical harm. The derogatory and offensive comments also focused on Ms. Dymskaya's heritage. Despite numerous complaints, Orem's management failed to address the harassment, which reached its apex in early November 2010, when an Orem's cook threatened to shoot Ms. Dymskaya, causing her to quit her job.
The complaint asserted federal and state causes of action for hostile work environment based on Ms. Dymskaya's national origin and gender, constructive discharge and negligent supervision, and sought compensatory and punitive damages.
After a three-day trial, the jury found Orem's liable for hostile work environment discrimination based on gender, and awarded Ms. Dymskaya $53,500 in compensatory damages and $31,001 in punitive damages.
Attorney Russell J. Sweeting of Maya Murphy, P.C., which represented Ms. Dymskaya, stated: "We are very satisfied with the result and pleased that the jury agreed with us that Iryna is entitled to both compensatory and punitive damages."
Established in 1993, Maya Murphy, P.C. is a full service law firm with a particular focus on employment law, divorce and family matters, criminal defense, estate planning, commercial litigation and business law. For more information about the firm, or Attorney Russell J. Sweeting, visit http://www.mayalaw.com or call 203-221-3100.
This case was heard in the United States District Court for Connecticut in Bridgeport. The docket number for this case is 3:12-cv-00388(SRU). The verdict was handed down from a jury on April 9, 2013.