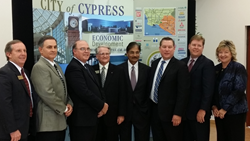 Accepting the Award on behalf of Sika Corporation, Mr. Jesse Quezada, Vice President of Sales said, 'It is with a great sense of pride that I accept this award on behalf of Sika. We are honored to contribute to the success and growth of Cypress.'
(PRWEB) April 10, 2014
Sika Corporation, the worldwide market leader in thermoplastic roofing and waterproofing membranes, was named business of the year by the City of Cypress, CA in recognition of exceptional performance, success, and growth in Cypress.
In April of 2013, Sika opened a new 63,000-square- foot warehouse and distribution center in Cypress after outgrowing its original facility in Cypress. The new facility more than doubled the company's footprint and increased support and enhanced service offerings to local and regional customers. Sika currently has 12 employees at their Cypress facility.
"It is my pleasure to present Sika Corporation with this Business of the Year Award and Certificate of Recognition for the company's commitment to Cypress," said Mayor Leroy Mills.
Accepting the Award on behalf of Sika Corporation, Mr. Jesse Quezada, Vice President of Sales said, "It is with a great sense of pride that I accept this award on behalf of Sika. We are honored to contribute to the success and growth of Cypress."
The Cypress, CA distribution center is one of four Sika Sarnafil distribution hubs including: Canton, MA; Kansas City, MO; and Salt Lake City, UT.
SIKA CORPORATE PROFILE
Sika is a specialty chemicals company with a leading position in the development and production of systems and products for bonding, sealing, damping, reinforcing and protecting in the building sector and the motor vehicle industry. Sika has subsidiaries in 84 countries around the world and manufactures in over 160 factories. Its more than 16,000 employees generate annual sales of CHF 5.14 billion. For more information about Sika Corporation in the U.S. including Canton, MA, visit http://usa.sarnafil.sika.com/.
###