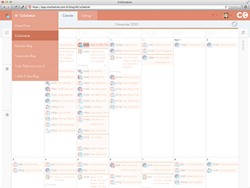 Now users can save time and grow traffic by scheduling blog posts and social media on a unified drag and drop calendar.
Bismarck, ND (PRWEB) April 10, 2014
CoSchedule, a Midwest-based social media and blog publishing platform with paying customers in 35 countries, has closed a $500,000 angel investment led by Sandin Holdings and Bullinger Enterprises of Fargo, North Dakota. Matching funds were provided by the North Dakota Development Fund.
CoSchedule is the first social media editorial calendar built exclusively for the world's most popular blogging platform – WordPress. The web-based application lets bloggers, social media managers, and marketing managers schedule their blog posts and social media messages at the same time. The elegant drag-and-drop calendar is built right into the Wordpress blogs.
The startup was co-founded by Garrett Moon and Justin Walsh, two North Dakota natives who have been running a successful web design and marketing consulting agency - Todaymade - in Bismarck since 2009. The partners say that they plan to use the funding for additional marketing, new hires, and to concentrate on building out the service before scaling more widely.
"We developed CoSchedule after identifying some common challenges our team was having while helping our clients implement their online marketing strategies," said Garrett Moon, cofounder of CoSchedule. "We learned that no matter how good the strategies, our clients could only be as successful as the tools they had available so we set out to fill a gaping hole in the integrated social media calendar arena."
CoSchedule allows teams of professionals to organize their online marketing and blogging efforts all in one place, eliminating the need for multiple, disconnected tools.
With CoSchedule, teams can:

Plan their online marketing in advance using a beautiful WordPress editorial calendar.
Schedule blog posts and social media messages together.
Manage their marketing efforts through team discussions and task assignments.
Publish their blog posts to WordPress, the world's most popular blogging platform.
Share their business with the world on over seven different social media networks, including Twitter, Facebook, and Google+.
"Our customers have told us that no matter how good their plan, social media marketing is hard for them to do well," said Justin Walsh, CoSchedule's other co-founder. "CoSchedule saves teams time and eliminates frustration while making it easier for teams to develop content and disseminate that content collaboratively."
Joe Sandin of Sandin Holdings will join CoSchedule's Board of Directors, providing strategic guidance and business advice.