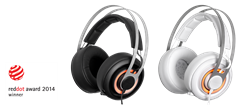 This award is a huge validation point that our new product design for the Siberia Elite is truly industry-leading.
Copenhagen, Denmark (PRWEB) April 10, 2014
SteelSeries, a global leader in the gaming peripherals and accessories market, today announced that their Siberia Elite Headset has won the prestigious Red Dot Award for product design in 2014. The competition included over 4,500 different entries from 53 different countries around the world. The Siberia Elite was selected for the award based upon its quality and innovative design that featured:

Illumination with a selection from among 16.8 million colors and the ability to control their display
Powerful Dolby virtual 7.1 surround soundscape leverages Dolby Headphone and Dolby Pro Logic IIx
Compatibility with PC, Mac, and mobile devices
"This award is a huge validation point that our new product design for the Siberia Elite is truly industry-leading," said Tino Soelberg, SteelSeries CTO. "The Siberia Elite's design is something our whole team is very proud of, it's a great feeling to see the representatives of Red Dot share the same enthusiasm."
Prof. Dr. Peter Zec, initiator and CEO of Red Dot, on the decision process in the Red Dot Award: "The 40 experts assessed the quality of the entries with the utmost care and attention. Due to their backgrounds, they also assessed the special cultural aspects of the designs from 53 countries. But only the best products receive an award from the jury. This is especially reflected in the percentage of successful entries in the Red Dot Award, which is much smaller in contrast to other international design competitions. Therefore, the winners can be proud of their achievements – with their entries, they stood out from the rest and were able to pass the test in front of the critical eyes of the experts. This success will be perceptible during the Red Dot Gala, when the laureates will receive the recognition of the international audience."
On 7 July 2014, the highlight of the internationally renowned product competition will be celebrated in Essen, Germany: the presentation of the acclaimed Red Dot during the traditional Red Dot Gala and subsequent Designers' Night. On that evening, roughly 1,200 guests from around the world gather in Essen in order to experience the awards ceremony. In the course of the party in the Red Dot Design Museum Essen, the winners' exhibition will also be opened, presenting the award-winning product to a wide audience for four weeks before it enters the museum's permanent exhibition.
For more information on the Siberia Elite and the rest of SteelSeries latest products and happenings, please visit our Facebook, Twitter, and steelseries.com.