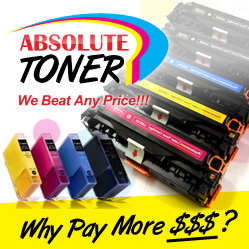 These cartridges are designed to work exactly the same as brand name ones.
Toronto, Ontario (PRWEB) April 10, 2014
The printer experts at Absolute Toner have returned with another new selection of compatible toner cartridges. This time, owners of five different models of Samsung printers will be celebrating. The new compatible toner cartridge, the CLT-406S set, can replace the brand name toner cartridges used with the Samsung CLP-365, CLP-365W, CLX-3305FW, Xpress C410W, and the Xpress C460FW. The company, based out of Toronto, is well known for offering outstanding compatible toner cartridges that are equal to or even superior to brand name products.
Buying brand name toner, especially when buying a full set of black, cyan, yellow, and magenta, can often cost almost as much as buying a brand new printer. That means businesses and individuals who do a lot of color printing will spend a large amount on toner throughout the year. Absolute Toner provides these consumers with a better alternative: high quality compatible ink cartridges that cost a fraction of the price. The toner available from Absolute Toner can be anywhere from 50 percent to 90 percent off the cost of brand name ink. Even better, these cartridges are as good as or even better than the original products. View the combo package here http://www.absolutetoner.com/samsung-toner-cartridges/1287-samsung-clt406s-toner-cartridges-compatible-combo.html on Absolute Toner's website.
Even though they aren't brand name cartridges, these compatible replacements produced by Absolute Toner are completely safe for use. There is nothing hazardous or damaging in the least—these cartridges are designed to work exactly the same as brand name ones. Often, generic replacement cartridges are created to function with a wide number of printers, which means that while they work with many models, they aren't fully compatible with any single one of them. This can cause some damage to the printer head or other issues like poor print quality. By creating compatible toner cartridges that work with specific brands and models, Absolute Toner can create safe yet inexpensive replacements for those who print a high volume of materials.
The black toner cartridge, the CLT-K406S, is capable of printing 1,500 pages based on five percent page coverage. The other three color cartridges—cyan (C406S), yellow (Y406S), and magenta (M406S) –can print up to 1,000 color pages. Absolute Toner offers both individual toner cartridges and a set of all four. The company also offers a lifetime guarantee on every toner cartridge sold. Customers simply need to contact the customer service department with any issue caused by one of these toners.
In addition to the already deep discounts on ink and toner, Absolute Toner also offers a rewards program to all customers. Any customer can sign up for this program and begin earning discount points with every purchase. These points can be cashed in for discounts on future orders. As a further bonus, Absolute Toner also offers free shipping on orders over a specific amount.
About Absolute Toner:
Based in Toronto, Absolute Toner has been providing replacement cartridges to individuals and customers for many years. These replacement cartridges match or exceed the quality of the original brand cartridges, but cost only a fraction of the price. Visit http://www.absolutetoner.com to learn more about using compatible ink in printers and to purchase products.