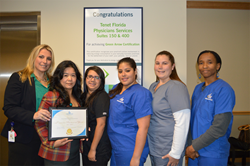 (PRWEB) April 10, 2014
Florida Career College (FCC), a member of the Anthem Education Group (AEG) family of career-focused schools and colleges, has recognized Tenet Florida Physician Services (TFPS) as its Community Partner of the Year. The award, which honors the three-year partnership with TFPS, one of the largest multi-specialty physician groups in South Florida, was presented during an awards ceremony held recently at TFPS' headquarters in Boca Raton.
"We are honored to be recognized as Florida Career College's Community Partner of the Year," said Matthew Hess, TFPS director of human resources. "By working closely with the college's dedicated group of students and staff, together we're able to successfully train and produce the next generation of healthcare workers."
As part of the partnership, students enrolled in FCC's Medical Assistant program have been given the opportunity to participate in TFPS's "Next Gen" training program at hospitals throughout Broward, Palm Beach and Miami-Dade Counties. The program provides a hands-on learning experience in a real-world environment to best prepare students for successful completion of certification exams upon graduation. Within the past year alone, TFPS has hired more than 23 FCC graduates and continues to assist others in staying on track to secure employment.
"Tenet Florida Physician Services' outstanding clinical expertise and commitment to providing our community with high-quality care exemplifies why recognition is so well-deserved," said Kara Hanaka, AEG director of community development. "We are thrilled to celebrate an ongoing partnership and look forward to many more years of collaboration."
FCC offers diploma and degree education programs for the allied healthcare, nursing, veterinary, technology, criminal justice, technical trades, business, paralegal, cosmetology and massage therapy industries. Headquartered at 1000 Corporate Drive in Fort Lauderdale, FCC has 12 campuses throughout Florida including Lauderdale Lakes, Margate/Pompano Beach, Boynton Beach, West Palm Beach, Hialeah, Kendall, Miami and Pembroke Pines.
For more information about Florida Career College, please call 888-852-7272. Visit Anthem.edu, facebook.com/AnthemEducationGroup and follow us on Twitter at twitter.com/AnthemEducation.
###