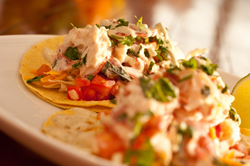 (PRWEB) April 10, 2014
Welcome springtime with a sparkling version of a favorite treat – tacos – in this new recipe by GetMaineLobster.com, Chilled Lobster Baja Tacos with Avocado and Mango Salsa. In this mouth-watering combination, fresh hand-picked lobster meat is paired with avocado and juicy mango salsa, adding sweetness in the tortillas that is rounded out by the Baja crema.
As the weather gets nicer, it's time to spend less time cooking and more time outdoors playing in the fresh air. This sunny recipe works wonders in that department.
Ingredients include 2 cups hand-picked lobster meat, chilled, chopped; 1 batch mango salsa; 1 batch Baja crema; 1 avocado, sliced; 1 pack organic corn tortillas; and lime wedges from 2 limes.
Ingredients for the Mango Salsa include 1 cup mango, peeled, seeded, small diced; ½ cup red onion, finely diced; ¼ cup cilantro, chopped; 2 tablespoons lime juice; salt and freshly ground black pepper to taste.
To prepare the Mango Salsa, simply combine all ingredients in a bowl and chill for 1 to 2 hours before using.
Ingredients for the Baja Crema include ¼ cup plain yogurt, 0% to 2% fat; 2 tablespoons cilantro, chopped; 2 tablespoons lime juice; 1 jalapeno, seeded, chopped; 1 cup white onion, thinly sliced; 1/8 teaspoon freshly ground black pepper; ¼ teaspoon salt; 1/8 teaspoon sugar.
To prepare the Baja Crema, combine yogurt, cilantro, lime juice, and jalapeno in a food processor and blend until smooth. Remove from the food processor and mix in white onion. Season with salt, freshly ground black pepper and a little sugar. Chill for 1 to 2 hours before using to develop flavors.
Now assemble tacos with a little of each ingredient beginning with Maine lobster meat and serve with a few lime wedges. Share with good company!
About GetMaineLobster.com
GetMaineLobster.com, a division of Black Point Seafood and Black Point Gourmet, hand-selects the finest Maine lobster, seafood and beef products for convenient distribution throughout the United States. Their passion is to make fresh, quality seafood readily available to customers across the country, which is why they buy from only the most trusted, well-established suppliers to ensure that they receive the finest products available.
GetMaineLobster.com was selected out of the more than four million small American businesses served by Chase bank to represent its new Platinum Business Checking product for its 2013 national advertising campaign.