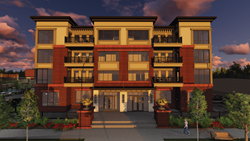 Moving forward with several live-work projects such as this one is bringing forth a new conceot in downtown Cedar Rapids lifestyle. We are pleased to be in the forefront of these new developments.
Cedar Rapids, IA (PRWEB) June 11, 2014
In response to a Request for Proposal by the City that was due on April 25th, Ahmann Companies was awarded the project for development that involves currently unused, adjacent lots in the Kingston Village area. Compass Commercial Services will build a new 4-story multi-use structure housing 1st floor retail as well as live-work condominiums on the upper 3 floors ranging from studio to one and two bedrooms in size. The site will also provide a 1-story parking garage on site to be used by the building residents. Proposed by Ahmann Companies, the site will be named 'Kingston Lofts'.
The development will become an integral and important step in the revitalization of the neighborhood that had been severely impacted by the floods of 2008. This development will immediately meet the need for additional workforce housing in this area as the Kingston and surrounding neighborhoods continue to grow and revitalize.
The Kingston Lofts provide an attractive and necessary resource and further symbolize economic growth for the community. The overall goal of this project by Ahmann Companies is to build something that's currently not found in our downtown community, and to attract business and residents to revitalize an area that is upscale, evolving and current. There is no other project currently in process in the area that can bring both retail and residential together in an area where new meets old like this one can. The concept has been designed to appreciate the established ambiance of the neighborhood while offering modern amenities that will attract customers, retailers and homeowners.
About Compass Commercial Services
Compass Commercial Services is a full-service General Contracting and Construction Management firm in the Cedar Rapids area specializing in a wide range of commercial construction projects including interior and exterior renovations, remodeling, building additions and the complete construction of new buildings. As a TRUE design-build firm, Compass Commercial Services is poised to complete projects from the ground up. From the initial design through the entire building process, customers have the advantage of working directly with one company, and a team that is structured to deliver final projects on time, and on budget.