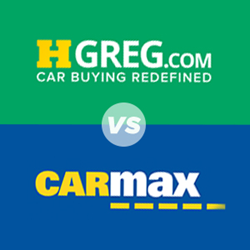 With their prices and offering, comparing to Carmax is GENIUS.
(PRWEB) April 10, 2014
At HGreg.com, their mission is simple. Get drivers into the seat of the best vehicles, at the absolute best price.
They take that mission to heart. So much so, that they're doing the legwork for their customers, letting them check prices at their main competitor; Carmax. To compare prices with the biggest kid on the used-vehicle playground, the consumer simply needs to click the "Compare with Carmax" button on their website, and prepare to be blown away.
One might think they're insane for providing a link to the same car on their competitor's website. And maybe they are. But maybe they're also just so confident in their pricing, that they're willing to put their money where their mouth is – figuratively speaking, of course.
In the grand scheme of things, what do they have to lose? And more importantly, what do their consumers have to lose?
They know that their prices are the best in Miami, and when they package that up with a lifetime engine warranty, 24-hour roadside assistance (as if anyone would need it), and a 3-day money back guaranty, it becomes blatantly obvious: HGreg.com has the best offer around. Their competition knows it as well, and that's why Carmax will never back up their prices with a link to Hgreg.com. When drivers buy a car with HGreg.com, they get the best price and the best offer. Period.
Once again, what has anyone got to lose? It's obvious, HGreg.com has not only the best prices, but also the best customer service, and they're willing to do everything it takes to prove it.