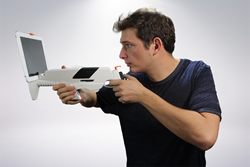 Naples, FL (PRWEB) April 10, 2014
The campaign aims to speed distribution of the AppTrigger Touch and AppTrigger Blue mobile gaming devices to game enthusiasts and developers around the world. People can join the initiative by visiting the Kickstarter page at https://www.kickstarter.com/projects/1986591015/apptrigger-bust-a-cap-in-your-app.
Modded Apps™, led by a number of mobile gaming visionaries and successful engineering and software veterans has set the funding goal at $100,000 USD. A contribution of $100 or more gets the donor an AppTrigger Blue FPS device and open access to the software development kit (SDK). The AppTrigger Blue enables developers not only to experience the enhanced intensity of FPS gaming on mobile for the first time, but to easily integrate the AppTrigger with their own games or applications.
"All of us at Modded Apps™ are excited to bring a truly immersive and enhanced intensity FPS experience to people who love video games like we do," said Roger Romero, Founder of Modded. "The AppTrigger provides users with an enhanced intensity experience that we know the FPS genre needs—the experience FPS game developers are trying to bring you, but are so desperately missing... until now. The AppTrigger is a game changer that will bring FPS gaming to the next level."
The AppTrigger allows players to attach any smartphone or tablet directly to it. Its sensors sync with any portable device and respond in game to the users' body movements, trigger responses, hand gestures and voice commands all with realistic recoil effects to accentuate the game experience. The AppTrigger can also transform to resemble four different types of firearms and an additional form for transporting and storage.
"With a traditional TV console, FPS peripherals have a range of motion limited to a plane, parallel to the floor, and only about 40 degrees left and right," Romero added. "With AppTrigger, the range of motion is huge—a 360 degree sphere in all three dimensions—giving users an experience that no TV screen can replicate. In other words, when you move—the player moves—on-screen," said Romero. "The controller is designed solely for first person shooter titles. Due to the sensitive times we live in because of gun violence we took a lot of time designing a nonthreatening gaming gun knowing that it's for the mobile platform and can be played anywhere."
"FPS is the most popular video game genre in the United States for the past five years. Another overwhelming trend in gaming is the migration to mobile devices. No wonder big-name titles like N.O.V.A., Modern Combat, Dead Trigger, Call of Duty: Strike Team, and hundreds of others are available in both iOS and Android mobile versions," said Romero. "But where are the peripherals uniting these markets? Well established peripheral makers like Razer, Logitech and PowerA, have taken note and are trying to create new mobile peripherals. But they are relying solely on brand recognition, which has led to more of the same conventional peripherals. We're betting that mobile is already a serious gaming platform, and will become increasingly so. We believe our pursuit of innovative concepts to drive the mobile gaming experience gives us an edge that will bring us to prominence."
"We've gotten great feedback from game players and developers," Romero said. "We know the gaming community will be as excited as we are when they get their hands on it."
"We're very excited," said Brandon Keene, Co-Founder of Modded. "We are dedicated to advancing the mobile gaming experience, and for us, that means building devices that work with as many operating systems and games as possible."
"The AppTrigger is the next generation in FPS. The experience is amazing!" said Sundar Mims, Public Relations Director, Modded Apps.
"No matter what mobile operating system you use—it works seamlessly," offered Kent Pickard, Software Developer for Imperial River Enterprises.
"It's awesome! I've never played with anything like it. It's like a VR gaming experience without the goggles," said James Stuart, Producer, Cinefab Studios.
Modded Apps™ is developing an open SDK for the AppTrigger Blue acquired through Kickstarter. This will allow developers to integrate with AppTrigger Blue features more deeply than standard game controller APIs, making it more responsive in the context of a particular game. This will enhance the user experience, and keep gamers engaged. The SDK will provide support for Objective C (iOS), Java (Android), and cross-platform Unity game implementations. Modded is also participating in Apple's "Made for iPhone" program to support the standard game controller protocol Apple released with iOS 7, and will be supporting Android game controller functionality as well. Developers will love the well-documented API and code samples included. The SDK development timeline is approximately 3 months. Developers can contact us now to get beta access to the SDK.
Modded Apps™ will be showcasing the AppTrigger at a number of upcoming tradeshows, including CES, E3, Siggraph and Gamescom. Any developer or publisher interested in meeting with Modded AppsTM should email rogerromero(at)me(dot)com. For more information, visit: http://www.moddedapps.com.