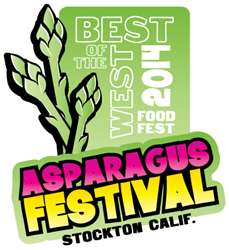 "Stockton's single largest festival is a great opportunity for visitors to see Stockton for the first time. Once they've been here, they will be back!" Wes Rhea, CEO, Visit Stockton
(PRWEB) April 09, 2014
Organizers for the 2014 Stockton Asparagus Festival are ready for another exciting year of entertainment, activities, and family fun on Friday, Saturday, and Sunday, April 25- 27 at the Downtown Stockton waterfront. "We are excited and ready to go!" notes Kate Post, Executive Director of the 29-year-old festival. Having earned a "Best of the West Food Fest" moniker by Sunset Magazine years ago, the Stockton Asparagus Festival lives up to its reputation by serving up over 12 tons of the locally grown spear each year in a variety of delicious dishes.
Great food is the cornerstone of the festival, so a visit to Asparagus Alley is a must! Asparagus Alley is where you will find our famous Deep Fried Asparagus, Asparagus Ice Cream (made locally by Gleason's Ice Cream), Asparagus Pasta (vegetarian friendly), Asparagus Burritos, and Asparagus & Beef Sandwiches. All of our yummy dishes are made with the freshest possible locally grown asparagus, which is typically picked just a days before the festival.
"Deep fried asparagus and the asparagus ice cream are our two most popular dishes at the festival," noted Wes Rhea who oversees the Asparagus Alley and also invented the asparagus ice cream, "for many of our attendees, the first thing they do when they arrive at the festival is get their favorite asparagus dishes." The ice cream has sold out in the last couple of years, but this year over 12,000 scoops are being made to meet demand.
In 2013, over 56,000 asparagus dishes were served to attendees and volunteers, including over 36,000 orders of Deep Fried Asparagus and over 10,000 scoops of Asparagus Ice Cream! The dishes at Asparagus Alley are freshly prepared on-site and served by a loyal and dedicated group of community volunteers representing a variety of organizations, such as the Greater Stockton Chamber of Commerce, Delta Rotary, and the California Women for Agriculture. Asparagus Alley will see nearly 2,000 volunteers serving up asparagus dishes during the 3-day festival. There are also tons of other tasty food vendors and dishes that can be found on Spear-It Lane.
The Stockton Asparagus Festival is home to the World Championship Deep Fried Asparagus Eating Competition, which is held Saturday at noon on the Main Stage. Current #1-ranked competitive eater in the world, Joey Chestnut, holds the crown, but many top eaters will vie for a chance to steal the title.
World famous musical artists are another staple of the Festival. Friday kicks off with the Heartbeats, followed by country new-comer, Meghan Linsey of Steel Magnolia. Saturday brings rock and roll favorites, Soul Asylum and Berlin featuring Terri Nunn. Finishing off the festival on Sunday are the hip and fun band, the Peelers, followed by California's famous funk bank, WAR. Two additional stages at the festival will offer up a variety of musical and family-friendly acts.
A can't miss festival favorite is the Skyy Dogs, offering shows three times a day. New this year is the Street Drum Corps, a world-renowned, high energy, drum and percussion show - guaranteed to be been a hit with everyone! Kids will enjoy the numerous rides and games in the Asparazone, which also includes the popular Sea Lion Encounter, while adults can learn from the pros in the Chef of the Fest kitchen. As for shopping, there is plenty; with a lot to see and buy in the Arts & Crafts area, the Home & Garden Expo, the Small Business Expo, the Stockton Certified Farmers Market and much more with hundreds of other vendors!
For visitor and hotel information visit the Visit Stockton Stockton Asparagus Festival Visitors Information page at http://www.visitstockton.org/events/stockton-asparagus-festival.
Additional info can be found at festivals official page at http://www.asparagusfest.com or by calling 209-644-3740.