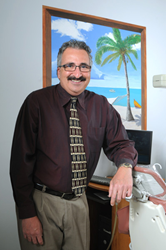 Shelton, CT (PRWEB) April 11, 2014
April is Cancer Control Month and Dr. Richard Amato, leading periodontist for patients in Shelton, CT, is taking this month to educate more people about how gum disease can increase their chances of developing serious diseases such as pancreatic cancer. Dr. Amato offers multiple forms of effective gum disease treatment for Shelton-area residents that can improve both their oral and overall health, including the Laser Assisted New Attachment Protocol (LANAP®) laser gum surgery.
Together, all forms of cancer represent the second most common cause of death in the nation. Pancreatic cancer is the fourth most deadly form of this disease. Research has shown that the existence of periodontal infection can increase the risk of contracting pancreatic cancer. There are two factors that lead researchers to this conclusion. When gum disease is present, both oral bacteria and nitrosamines grow in the oral cavity. Nitrosamines are a known carcinogen and contributing factor for the development of pancreatic cancer. Additionally, gum disease patients have elevated serum biomarkers which promote cancer cell growth.
Seeking gum disease treatment for Shelton patients who suffer with periodontal infection is one way to help lower the chances of becoming a cancer patient. When in need of periodontal disease treatment, residents can trust in Dr. Amato's experience and knowledge. A longtime periodontist for Shelton patients, he takes great care in offering the best treatment forms possible. His use of the LANAP® laser gum treatment delivers gum disease treatment for Shelton residents in a fraction of the time and with far less discomfort than any other gum disease treatment before it.
Patients in Shelton, Newton and Monroe who believe that they may have gum disease are encouraged to contact a periodontist for a consultation. Dr. Amato and his staff welcome questions and are happy to take the time to educate patients. Their commitment to helping their patients achieve the best state of oral and overall health possible shines through with their caring approach and dedication to offering the latest treatment options. You can schedule a consultation with Dr. Amato at your convenience and also find more information on his website.
About The Doctor
Dr. Richard Amato is a Periodontist and Dental Implant Specialist who provides the most advanced technology for his patients in Monroe, Connecticut. He has placed thousands of dental implants since 1989. Dr. Amato graduated first in his class with a DDS degree from Stony Brook University. Dr. Amato then completed a full time multi-year specialty residency and received his Certificate of Proficiency in Periodontics from Eastman Dental Center at the University of Rochester. He is part of one percent of dentists in the USA providing the LANAP FDA cleared laser procedure for gum disease treatment. Dr. Amato is the first and most experienced dentist to provide LANAP therapy in Fairfield County Connecticut. To learn more about Dr. Amato and his dental services visit his website at http://www.connecticutperiodontist.com and call (203) 712-0917.