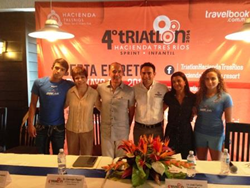 As part of the competition, on May 17 and 18, an "Accept the Challenge" Expo will take place during the Hacienda Tres Rios Triathlon. - German Fayad, General Director at Sunset World Resorts & Hotels
Cancun, Q. Roo, Mexico (PRWEB) April 10, 2014
Sunset World Resorts & Vacation Experiences announced the celebration of the 4th Hacienda Tres Ríos Triathlon, to be held on Sunday May 18th, with a record participation of 450 athletes.
During the press conference the organizers of this sporting competition pointed out that for this edition a children's category will be opened for the first time, for children between 6 and 15 years of age, as well as the traditional sprint category, for adolescents from 16 years of age to senior citizens.
The children's category, for the ages of 6 to 8 years, will consist of swimming for 50 meters, cycling for one kilometer and a 500 meters running race, while the sprint category will consist of 750 meters swimming, 20 kilometers cycling and 5 kilometers running.
In attendance on the presidium were Germán Fayad, General Director at Sunset World Resorts & Hotels; José Carlos Toledo, General Director of the Solidaridad Municipal Sports Institute; Ana Mari Irabién, Public Relations Director at the Riviera Maya Tourism Promotion Board; Nelly Becerra, Secretary of the Mexican Triathlon Federation and Vice-president of the Q. Roo Triathlon Association, as well as Victoria Juanicotena and Rodrigo Rocha from the Ironlaak team, considered to be the highest ranked athletes in Quintana Roo, and who will take part in the National Youth Championships in Veracruz from May 7th to 10th.
To make this sporting celebration more complete, Mr Germán Fayad, announced that as part of the competition, on May 17 and 18, an "Accept the Challenge" Expo will take place, with companies related with the areas of health, sport and medicine, and to close the Hacienda Tres Ríos Triathlon a "Celebrate the Challenge" fiesta will be held, offering music, entertainment, contests, food and drinks. Admission to both events will be free, with access to the beach and river.
The Hacienda Tres Ríos Resort, Spa & Nature Park ecotourism complex, the only environmentally responsible luxury resort and with exclusive access to the Tres Ríos Nature Park, will offer Triathlon Packages for this competition, with rates from $4,375 pesos for two days and one night in the Endless Luxury All Inclusive Plan for two adults and two children up to 12 years of age sharing the same room, bookable through the travelbook.com.mx agency.
The triathletes and public in general can also acquire a day pass, with a price of $850 pesos per person, including a full day in the all inclusive plan, without a room, with activities such as kayaking and snorkeling.
The organizers highlighted the growing interest within the sports community for participation in this 4th edition of the Hacienda Tres Ríos Triathlon due to the beautiful natural setting, beaches and jungle landscapes, an interest reflected in a gradual increase in the number of participants, compared to the 270 athletes who competed in the first edition in 2011 and the 300 registered last year.