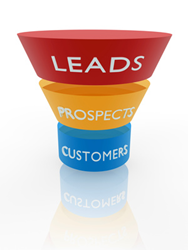 Boston, MA (PRWEB) April 10, 2014
Lead generation is defined as the process of creating sales leads, which should convert into sales for a company. The end goal of lead generation is to develop a sales pipeline for Business to Business sales, in particular. Due to the constantly changing digital landscape, lead generation is more important than ever. Additionally, the ability to keep up with lead generation best practices continues to be difficult based on increasing number of new online and social techniques.
What is a lead? A lead is defined as a qualified potential buyer who shows interest in purchasing your product. Why would your company benefit from owning Leads.com? Simply because the buying process has changed. Instead of finding customers through mass advertising and email blasts, businesses must focus on being familiar and building relationships with buyers. Being a category defining domain name, Leads.com provides instant credibility and brand recognition.
"Rather than sitting at a trade show table for hours on end, or setting up a display in hopes that targeted customers will complete a form, you can have leads generated and sent to you using the technology of the internet, " says Laura Lake of About.com.
Descriptive, category defining domain names have historically been the most valuable properties on the internet. Reported sales prices for comparable domains include Toys.com ($5M), Slots.com ($5.5M), Social.com ($2.6M), and Shop.com ($3.5M) demonstrate the potential value of the Leads.com domain name.
For additional information or to make a confidential offer, please contact Amanda Waltz directly at +1 508 689 9569 ext. 201 or via email at Amanda(at)igloo(dot)com.
About Igloo.com Limited
Igloo.com assists both businesses and domain owners in the overall planning and execution of their domain strategy. We specialize in domain acquisitions, branding needs, and sales for our clients. Domains can be complicated and Igloo provides the opportunity to leverage years of industry experience to help maximize success for our clients.