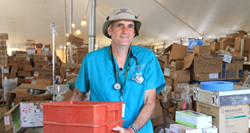 If one does not like the crime, cruelty, injustice and violence of this society, he can do something about it.
Los Angeles, CA (PRWEB) April 10, 2014
Scientologist Ayal Lindeman, 56, of Spring Valley, New York, exemplifies the spirit of the volunteer as expressed by President Obama in his 2014 National Volunteer Week Proclamation: "Through countless acts of kindness, generosity, and service, Americans recognize that we are all bound together—that we move this country forward by giving of ourselves to others and caring for those around us."
Lindeman is an emergency medical technician (EMT), licensed practical nurse (LPN) and 36-year veteran Scientology Volunteer Minister.
He has served at 16 major disaster sites including 9/11 New York, Hurricane Sandy, the Haiti earthquake of 2010, and the Japan tsunami of 2011.
Since last National Volunteer Week, he flew to the Philippines twice to help the country recover from the devastation of Super Typhoons Bopha and Haiyan.
He also traveled to Kwazulu Natal, South Africa, to make an assessment of disaster preparedness. He will be working with local authorities to remedy the points found lacking.
Lindeman frequently travels to Haiti to carry on the work he began after the 2010 Haiti earthquake. This year, he returned as part of a mission comprised of medical professionals from various humanitarian groups to provide medical care to underserved communities and clinical and community first response training.
The Church of Scientology has published a new brochure, Scientology How We Help: Scientology Volunteer Ministers—Something Can be Done About It, to meet requests for more information about the program. To learn more or read a copy of the brochure, visit the Scientology website.
In creating the Volunteer Ministers program, L. Ron Hubbard wrote, "If one does not like the crime, cruelty, injustice and violence of this society, he can do something about it. He can become a Volunteer Minister and help civilize it, bring it conscience and kindness and love and freedom from travail by instilling into it trust, decency, honesty and tolerance."
Press Contact: Tracie Parker
Tel: (323) 960-3500
Email: MediaRelations(at)ChurchofScientology(dot)net
SOURCE: Scientology Newsroom