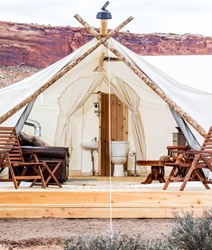 This is camping as it should be.
Moab, Utah (PRWEB) April 16, 2014
On April 4th, 2014, Moab Under Canvas (http://www.Moabundercanvas.com) opened its tent flaps to travelers looking for the ultimate outdoor vacation. Situated seven miles from the entrance to Arches National Park and 24 miles to Canyonlands National Park, Moab Under Canvas is the perfect setting for an outdoor vacation. World class hiking, mountain biking, rafting, kayaking, horseback riding, jeeping, and even golfing are all within close proximity to our property. The staff will help plan all activities to help take the stress of vacation planning off our guests' shoulders and we have established a partnership with Moab Adventure Center to provide access to countless activities.
Following the overwhelming popularity of Yellowstone Under Canvas (http://www.mtundercanvas.com), the award-winning Under Canvas Group is bringing luxury camping to Moab, UT. The furnished Safari tents and Tipis, Deluxe suites with king sized beds , one-of-a-kind hand-crafted bathrooms with flushing toilets and hot water, which our loyal guests have returned to our camps for summer after summer, will be joined by a few new additions. Guests will have the chance to enjoy luxury tent life, with extraordinary views of Arches National Park. And, pets are welcome anytime. Rates range from $79 to $399 per night.
As part of their partnership with Leave No Trace, all accommodations will be incorporated into the existing landscape with minimal impact. Outdoor ethics are a priority for Moab Under Canvas and the camp disappears at the end of the season with barely a mark left on the landscape.
"This piece of land in Moab is so pristinely undeveloped, we want to maintain its natural beauty," said Sarah Dusek, co-founder of The Under Canvas Group. "We hope to provide an extraordinary outdoor experience for guests to enjoy this part of the country this summer, without having to give up comfort and style."
About Under Canvas Group
Under Canvas Group is a luxury tenting company specializing in unique outdoor experiences. They own three glamping properties: Moab Under Canvas, Glacier Under Canvas (http://www.glacierundercanvas.com) and Yellowstone Under Canvas, which are operated by Lone Peak Hospitality. They also have an event company, Under Canvas Events (http://www.canvasevent.com), which brings their unique tenting experience anywhere in the U.S. and Canada.