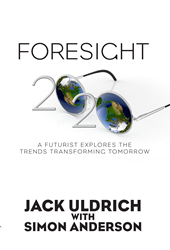 Technology won't put credit unions out of business, but credit unions that don't embrace technology may be out of business.
Las Vegas, NV (PRWEB) April 15, 2014
"Ready. Set. Catalyst!" On April 17th global futurist Jack Uldrich will keynote the 2014 Catalyst Corporate Federal Credit Union Annual Meeting and Accelerating Success Conference. The conference will take place at Planet Hollywood in Las Vegas, Nevada. The purpose of the meeting is to "review Catalyst Corporate's activities and financial performance in 2013 and to outline plans for 2014."
As the keynote speaker, Uldrich aims to help Catalyst understand how technological trends, business forces and social media are merging to create fresh and innovative opportunities in the credit union industry. His keynote for Catalyst, "Foresight 2020" will address the cutting edge trends in technology in the credit union industry, including advances in mobile payments, "Big Data," peer-to-peer lending, wearable technology, artificial intelligence and collaborative consumption.
Honing in on relevant trends, Uldrich is tremendously adept at custom designing his message to each individual audience. He also offers powerful, constructive guidance for leveraging rapid technology-driven change into a competitive advantage. His captivating style blended with humor and anecdotes, along with timely and provocative insights motivate audiences like Catalyst to embrace the challenges and opportunities that lay ahead.
The following is an excerpt from Uldrich's most recent book, "20/20 Foresight: A Futurist Explores the Transformational Trends of Tomorrow," upon which his keynote is based. This chapter covers how unexpected events and "unknown" unknowns might adversely affect the future in the world of finance.
Other of Uldrich's bestselling and award-winning books include, Green Investing: A Guide to Making Money through Environment-Friendly Stocks; Unlearning 101: 101 Lessons in Thinking Inside-Out the Box, Higher Unlearning: 39 Post-Requisite Lessons for Achieving a Successful Future; The Next Big Thing is Really Small: How Nanotechnology Will Change the Future of Your Business; and Jump the Curve: 50 Essential Strategies to Help Your Company Stay Ahead of Emerging Technologies.
Celebrated as a national and international speaker and scholar, Uldrich's most recent keynotes have been delivered to the Fiatech, the 2014 ATEA Conference, the American Medical Association, TEXPERS, the Idaho Technology Council, Wells Fargo, the Allan P. Kirby Lecture Series at Wilkes University and The Million Dollar Round Table in Kuala Lumpur.
Some of Uldrich's other clients include General Electric, IBM, Cisco, United Healthcare, PepsiCo, Verizon Wireless, General Mills, the Young Presidents Organization (YPO), Pfizer, Healthcare Association of New York, Southern Company, St. Jude Medical, Dressbarn, AG Schering, Imation, Lockheed Martin, Fairview Hospitals, Touchstone Energy, The Insurance Service Organization.
Parties interested in learning more about Jack Uldrich, his books, his daily blog or his speaking availability are encouraged to visit his School of Unlearning website. Media wishing to know more about either the event or interviewing Jack can contact Amy Tomczyk at (651) 343.0660.
Uldrich is a renowned global futurist, best-selling author, editor of the monthly newsletter, The Exponential Executive, and host of the award-winning website, http://www.jumpthecurve.net.