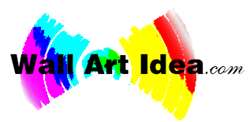 Very very good experience. I like the hand-painted oil painting. By Lindah. April 2, 2014
(PRWEB) April 12, 2014
Wallartidea.com announced today the special offer, up to 70% off, on oil paintings. The collection, which showcases an impressive line of hand painted fine art reproductions, is the latest addition to the retailer's multiple online resources available to simplify shopping for the busy home decorator.
Wallartidea.com's Spring Art Catalog features more than 900 best-selling hand-painted oil paintings divided into Collections of abstract oil paintings, floral oil paintings, landscape oil paintings, people oil paintings, as well as a selection of hand painted and hand carved still life oil paintings. The catalog is highly interactive allowing users to zoom in on the art, view product descriptions and more images of the product by clicking on the "tag" link on each painting. It is a full catalog with full color and links to all of the products featured.
"Our mission at Wallartidea.com is to make shopping for art into a rich and fun experience, we achieve this by removing all the doubts from the buying process and enriching shoppers with a great shopping experience and ultimately a magnificent piece of art for their space," said Joseph, CEO of Wallartidea.com. The catalog is now organized via subjects and collections. It holds many of our newest arrivals along with exclusive collections.
In addition, wall stickers and print on canvas are also included in the special offer. Print on canvas is inspiring décor for the home personalized with your favorite photos. They transform photos into museum-worthy pieces of art that come ready-to-hang, with no assembly required. "Every home deserves a canvas print that encapsulates the love and cheer within! Create a one-of-a-kind canvas print that captures picture perfect memories shared with your loved ones. With the mix of formats on offer, there's one to suit every wall and home."
Wallartidea.com has been providing wall stickers services since 2005, but the company has always tried to move with the times. There have been a number of prominent leaps forward with respect to vinyl sticker printing in this time. While Wallartidea.com are keen to offer the same level of customer service that they have always provided, they focus on providing the most up to date sticker products for all markets.
The latest project from the online specialist sticker printing company is likely to be of immense benefit to businesses that present at exhibitions, trade fairs and other public presentations. These stickers can be reused on many occasions and will not cause damage to any wall, stand or board. This ensures that a company can take control of the content they want to send, no matter where they are presenting.
This new type of wall sticker is also ideal for families with young kids. Children love to place posters up on their walls, but many parents are rightly concerned about the condition of the walls behind these posters. With the new line of kids wall stickers, parents no longer have to worry about their walls. This is due to the fact that these stickers can be applied and reapplied with no adverse effect on the wall or on the poster. This should ensure that parents and children are happy, which is not something that happens every day.
Founded in 2005, Wallartidea.com is one the web's leading distributors of high-quality wall art. With more than 2, 000 wall décor combinations to choose from in stock at all times, the online retailer has one goal: to make it easy and affordable for people to transform their space with hand painted art. Recognized as a premiere shopping destination for hand painted fine art reproductions, Wallartidea.com has expanded its offerings to include hand painted and hand carved decorative ceramic tiles and high-quality original canvas art prints.
For more information, please visit http://www.wallartidea.com.