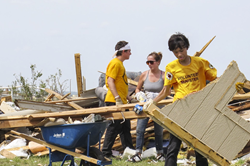 Our team of Scientology Volunteer Ministers worked alongside LDS and Baptist groups and volunteers of many other faiths. We all walked through the fields together, foot by foot, locating every bit of debris and clearing it from the land
Los Angeles, CA (PRWEB) April 09, 2014
Joava Good, 65, of Draper, Utah, has been a Scientology Volunteer Minister since the program began in 1978 and has been active in disaster relief for more than three decades.
In addition to her work coordinating and participating in Volunteer Ministers disaster response, Good is also president of Utah VOAD (Volunteer Organizations Active in Disaster) and serves on the National VOAD Communications Committee.
"Volunteer disaster response has changed a great deal over the past 36 years," says Good, "It is much more professional and better organized now. There is more coordination and collaboration among groups and it's easier to get the work done because everyone is pulling together as a team. VOAD has made a tremendous difference."
In his 2014 National Volunteer Week Proclamation, President Obama spoke of the 2013 tornado in Moore, Oklahoma, as an example of the spirit of volunteerism and its vital role in the life of the nation. Good coordinated the Scientology Volunteer Ministers disaster response in Moore, an experience she says she will never forget.
"We were working in one of the areas hardest hit by the tornado," she says. "Many of the local residents are farmers and their fields were filled with debris. Our team of Scientology Volunteer Ministers worked alongside LDS and Baptist groups and volunteers of many other faiths. We all walked through the fields together, foot by foot, locating every bit of debris and clearing it from the land. This enabled the farmers to put down their crops and made the fields safe for the farm animals.
"In one home, a woman was confined to a wheelchair, completely incapacitated. She'd lost virtually everything—the tornado had wrenched machinery, silos, and farm equipment and driven them into and through her home, completely destroying everything. She was an artisan who created craft products using the wool from a herd of llamas she raised on her property. After the tornado, she couldn't find any of her equipment. Miraculously, the llamas all survived, but the field where they grazed was full of tiny shards of glass. We cleared the field so the llamas could feed again. Her home, a safety hazard, was scheduled to be bulldozed, but before that was done, we went through the wreckage and located thousands of dollars of tools, equipment and craft materials, making it possible for her to get back to work. Without our help, she would have lost everything."
Good and husband Bill own and operate their own travel business. That and family (they have 6 grandchildren) keep them busy. But one of their highest priorities is her volunteer work.
"It's important to both of us that we give back on behalf of our church and our family," she says. "Being able to help people—that's what makes it all worthwhile. The experience is often heart-wrenching but there are joyful moments too. And the people you meet—I have friends all over the world now—people involved in every group you can imagine. We learn about each others' faiths and beliefs and what is important to each of us as we share in the giving and helping."
The Church of Scientology has published a new brochure, Scientology How We Help: Scientology Volunteer Ministers—Something Can be Done About It, to meet requests for more information about the program. To learn more or read a copy of the brochure, visit the Scientology website.
In creating the Volunteer Ministers program, L. Ron Hubbard wrote, "If one does not like the crime, cruelty, injustice and violence of this society, he can do something about it. He can become a Volunteer Minister and help civilize it, bring it conscience and kindness and love and freedom from travail by instilling into it trust, decency, honesty and tolerance."