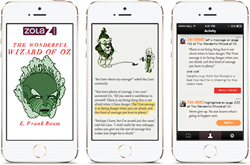 This edition is a digital treasure to be enjoyed by all.
New York, NY (PRWEB) April 10, 2014
Zola Books, a cloud platform for book discovery and reading, has added new features that let users read alone or with friends using highlighting, commenting and sharing in Zola's social reading app for iPhone and iPad. The new release also lets readers sign in with Twitter, Facebook, Google+ or Goodreads and access 17 free ebooks preloaded into the app.
The Zola app lets readers highlight passages within a book and share comments with small groups of users such as friends, family and book clubs within the Zola network or share broadly on Facebook and Twitter. Readers can also follow favorite authors on Zola network to see their comments and annotations in books.
"We founded Zola Books to bring readers, writers, tastemakers, booksellers and publishers together where the magic of reading happens -- inside the books they love," said Joe Regal, Zola Books CEO. "The release of these new features on the Zola app is the first step toward to creating a truly social digital reading experience."
With a growing network of readers, authors, booksellers and library partners, Zola Books creates a unique space to discover books and read with friends. Zola Books offers over 150,000 ebooks from major publishers, free extended excerpts of upcoming titles, and popular titles not available digitally elsewhere.
Now, every Zola Books account comes with 17 free books from the growing Zola Open Classics collection. L. Frank Baum's masterpiece "The Wonderful Wizard of Oz," available today, is the latest in the custom-designed series, and Zola's electronic edition includes W.W. Denslow's original illustrations, specifically enhanced for Zola's app environment.
"With beautiful plates that burst with color, original fonts from the first edition's cover and illustrated headers throughout, this edition is a digital treasure to be enjoyed by all," said Jordan Scott, Digital Production Manager at Zola Books.
Additional free classic titles include "The King in Yellow," "Middlemarch" and "The Adventures of Sherlock Holmes."
See the full list of Zola Open Classics at https://zolabooks.com/list/zola-open-classics.
Zola Books' social reading app is available for iPhone and iPad in the iTunes App Store as a free download.
###
About Zola Books
Zola Books' mission is to enable the ultimate reading experience through innovative technology. Zola's state-of-the-art book recommendation engine, Bookish Recommends, is a new way to find great reads you might otherwise miss on Bookish.com and partner sites such at The New York Public Library's nypl.org. Zola's social reading app is a unique way to read with friends. Zola also shares profits with booksellers who recommend books online and off. In January 2014, Zola Books acquired Bookish, a book recommendation platform founded by Hachette Book Group, Penguin Group (USA) and Simon & Schuster. For more information, please visit http://www.zolabooks.com and follow @zolabooks.