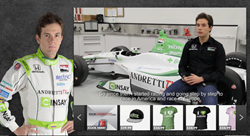 AndrettiTV is expanding to become the premier racing destination for fans to watch, shop and share, from all over the world," said Michael Andretti, Chairman, President and CEO of Andretti Autosport
Austin, TX (PRWEB) April 10, 2014
Cinsay, and Andretti Autosport® have further enhanced the world's first 24/7, live and archived HD racing network, AndrettiTV.com. On the heels of a successful site launch in early 2014 and the season's first race at the Firestone Grand Prix of St. Petersburg, the newly evolved site now features live streaming video from the Andretti Autosport headquarters in Indianapolis as well as archived footage from driver interviews; highlight reels, events and race schedules. The site also includes new social features enabling race fans and the media to join the exclusive interaction by creating a profile page and following other fans, drivers and crew. The evolved site will be the world's first racing social video commerce enabled network.
Tens of Thousands of Online Race Fans and Growing:
Adobe reports that mobile video viewing for sports is up on mobile devices by 640%* from 2012. Since the launch of AndrettiTV, this increase has also proven well for the racing site. Thousands of race fans around the world have already accessed the online race network via AndrettiTV.com, since the first race in March and the global fan-base continues to grow with each event.
"AndrettiTV is expanding to become the premier racing destination for fans to watch, shop and share, from all over the world," said Michael Andretti, Chairman, President and CEO of Andretti Autosport. "This gives our team the opportunity to engage with fans, answer questions and to personally show them inside the world of IndyCar racing. Working with the entire Cinsay team to make this possible is a dream come true for millions of race fans worldwide."
Viewers can watch dozens of different video streams including live video of Andretti's race facility where cars are built out and fine-tuned before each race. Fans can also view behind the scenes events during race weekends along with interviews of drivers and crew. Each video feed is powered by Cinsay's Video Smart Store™ (VSS) and hosts a wide range of branded Andretti apparel and merchandise built right into the video. Fans can choose from their favorite driver's merchandise to purchase and share with other fans. Cinsay On Demand provides the high quality merchandise that's manufactured on demand and in the USA for each order purchased within the video. New merchandise and creative apparel will also be available on ShopAndretti.com.
Fans can comment on and share videos within the site's social engine platform along with outside social media like Twitter, Google plus, and Facebook where the videos are embeddable on users' news feeds.
The site will also feature live video and twitter chats where fans can ask questions of the drivers and crew as well as view them in live video feeds. "Even if people can't attend an IndyCar Series race, they'll be able to pose questions to drivers and even purchase limited-edition autographed merchandise and apparel right from the video, then have it drop-shipped to their home or business," said Christian Briggs, founder and CEO of Cinsay. "This brings a new level of interactivity, entertainment and commerce like never before seen in auto sports."
Andretti Autosport will be hosting several events at the track and off the track where fans can attend in person and online via AndrettiTV. Ticketed race attendees will be able to cue in line for first chance driver autographs at the ShopAndretti merchandise store where they can purchase Andretti-branded merchandise. Initially, the drivers with profiles on the new social AndrettiTV.com will include: Marco Andretti, James Hinchcliffe, Ryan Hunter-Reay, Carlos Muñoz, Zach Veach, Matthew Brabham, Garett Grist and Shelby Blackstock.
The new AndrettiTV.com powered by Cinsay officially launched in April at the Firestone Grand Prix of St. Petersburg with Cinsay serving as the title sponsor for the No. 34 Indy car driven by rookie sensation Carlos Muñoz. The Cinsay/Andretti team returns to the track this weekend for the historic Grand Prix in Long Beach.
Andretti Autosport Long Beach Driver & Event Schedule:
Thursday, April 10
James Hinchcliffe – Thunder Thursday on Pine Ave, Pit Stop Competition, 6:00 p.m. – 8:00 p.m.
Friday, April 11
Marco Andretti, James Hinchcliffe, Ryan Hunter-Reay, Carlos Muñoz - Verizon IndyCar Series Driver Autograph Session in the INDYCAR Paddock - 4:00 p.m. – 5:00 p.m.
Marco Andretti, James Hinchcliffe, Ryan Hunter-Reay, Carlos Muñoz at The Yellow Party with a performance by the multi-platinum rock band LIVE at The Federal Bar - 102 Pine Ave, Long Beach, CA 90802 - 6:45 p.m. – 8:45 p.m.
Saturday, April 12
Carlos Muñoz 'meet & greet' with Honda Latino at INDYCAR Fan Village 11:45 a.m. – 12:00 p.m.
Zach Veach & Matthew Brabham - Indy Lights Driver Autograph Session at INDYCAR Fan Village 2:30 p.m. – 3:00 p.m.

References: ADOBE DIGITAL INDEX | The U.S. Digital Video Benchmark - Q4/2013
About Andretti Autosport
Based in Indianapolis and led by racing legend Michael Andretti, Andretti Autosport boasts a wide racing portfolio rooted in tradition and designed for success. Together with Andretti Formula E and Volkswagen Andretti Rallycross, Andretti Autosport fields multiple entries in the IndyCar Series, Indy Lights and the Pro Mazda Championship, along with entries in the FIA Formula E Championship and Global Rallycross. The company boasts four IndyCar Series championships (2004, 2005, 2007 and 2012), two Indy Lights titles (2008 and 2009), one Pro Mazda championship (2013) and one USF 2000 championship (2010) and has twice captured victory at the famed Indianapolis 500 (2005 and 2007).
To share in the Andretti story, please visit online at AndrettiAutosport.com or AndrettiTV.com and follow along on Twitter via @FollowAndretti.
About Cinsay, Inc.
Austin-based Cinsay has created a next-generation e-commerce, viewer interactive, video-based platform for any size business. Cinsay's technology enables anyone to sell products, display printable coupons, capture donations, and generate leads all inside its patented Smart Store™ technology. Along with being the premiere video commerce provider for small and medium businesses, Cinsay is adding new exclusive content channels for sports, music and movies.
Forbes named Cinsay one of "America's Most Promising Companies" while eTail Conferences named Cinsay a "Rising Star" in innovation for 2012. Cinsay's eCommerce video-based platform can be used for any individual or business. For more information please visit http://www.cinsay.com or call 855-725-2462.
One or more of the following patents may protect Cinsay's software, systems, and/or services. See http://www.cinsay.com/patents. U.S. Patent Nos. 8,312,486, 8,533,753 and 8,549,555 for interactive Internet-based video applications.