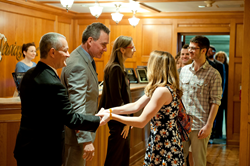 Hollywood, CA (PRWEB) April 09, 2014
The Annual Illustrators of the Future Workshop has begun for the 25th time having started in 1988 as the sister contest to the Writers of the contest initiated by L. Ron Hubbard. Contest entrants from 189 countries have provided a unique cross-section of winning artists from such diverse countries as South Korea, Scotland, Portugal, Germany, Canada, as well as the United States.
The week-long workshop began with their initial meeting at the Loews Hotel in Hollywood with Ron and Val Lindahn, Cliff Nielsen and Stephen Hickman, each of them award winning artists and Contest judges.
The 12 artists are winners for the 25th year for the Contest and have come to Hollywood for a week long workshop, taught by top line professional artists of Science Fiction and Fantasy.
Throughout the Contests' 30-year history, over 600 writers and illustrators have been recognized as winners.
The Illustrators of the Future contest was initiated five years after the creation of the Writers of the Future writing contest (http://www.writersofthefuture.com) by L. Ron Hubbard in 1983 to provide a means for aspiring artists to get that much-needed break.
The 276 past winners of the Illustrating Contest have produced over 4,500 illustrations, 356 comic books, graced 594 books and albums with their art and visually contributed to 36 TV shows and 46 major movies.
The 348 past winners of the Writing Contest have published 838 novels and nearly 4,000 short stories. They have produced 27 New York Times bestsellers and their works have sold over 50 million copies.
For more information on the Contest or how you can attend the upcoming Gala Awards celebration, go to http://www.illustratorsofthefuture.com .