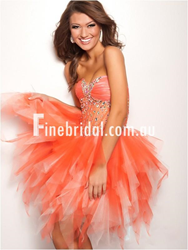 (PRWEB) April 10, 2014
Finebridal.com.au, a professional dress retailer selling high quality discount formal dresses and wedding gowns, has launched a promotion of its high quality ravishing formal dresses. According to the super manager of Finebridal, its formal dresses are now provided with a very big discount; some dresses even lower than $75. The gorgeous formal dresses vary in styles of high-low, A-line, long tailor, beading bodice and so on. The soft fabrics and flattering styles will show you off to the limit.
The CEO of FineBridal.com.au states, "We are so happy to see all the client buy some cheap dresses from our online shop, and the dress's quality is not bad! This time, we want to reward our customers by offering special discounts. The best advice I can to those who are searching a perfect formal dress is to have fun with fashion. Try something new: venture into a store that you've never shopped at, try on dresses that you always wanted to wear, but was afraid to try on. The idea is to push the limits of your prom wardrobe and experience innovative looks."
About FineBridal.com.au
Founded in 2007, It has become a leading online supplier of formal gowns and wedding dresses. Their experienced designers and tailor at FineBridal boast great talent blending popular fashion element with red carpet fashion trend to create unique formal dresses. The elegant selection of formal dresses always stands at a very high level of quality; that has been proved by a lot of reviews.
More details at http://www.finebridal.com.au/.