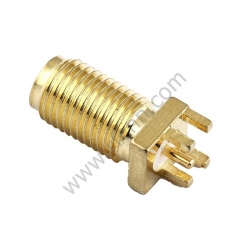 (PRWEB) April 11, 2014
Recently, LenoRF, an outstanding electrical equipment supplier, has announced its latest assortment of SMA edge mounts for PCB. Aside from that, the company has launched a special offer on these great accessories. They are now offered at discounted rates, up to 27% off.
LenoRF, the experienced manufactured of SMA items, feels pleased to launch the current promotion. Understanding that many distributors are looking for affordable, high quality electrical equipment, the company is striving to make more cost-effective accessories. All its products have excellent performance and meticulous craftsmanship. The new collection is well manufactured by the company's specialists.
All of the company's cheap SMA edge mounts for PCB can now be purchased online at reduced prices, without compromising quality and standards. All clients can get a discounted price before April 26. In the coming months, it will release more wonderful accessories to enrich its product line.
The company sincerely hopes to bring more convenience to worldwide distributors. All its designers and production workers are working hard to create more customer-oriented items. It is worth mentioning that the company uses grade-A materials only. As a prestigious supplier in the market, it feels obligated to provide worldwide distributors with the best electrical equipment.
About LenoRF
LenoRF is an online shop of high end electrical equipment. It is a China based company that aims to provide customers with high quality products at the lowest possible prices. Customers can try the company's products through sample orders with a long-term contract. Most customers come back soon after receiving their first deals.
More details about the company's useful products can be found at http://www.rfcnn.com/SMA-Female-For-PCB-Board-Edge-Soldering-RF-Connector-97.html.