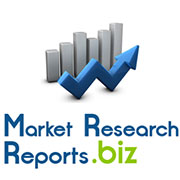 China Display Driver & Touch IC Industry 2013 - 2014
(PRWEB) April 10, 2014
Global and China Display Driver & Touch IC Industry Report, 2013-2014 involves the following:
Introduction to Display Driver IC and Touch IC
Technology Trends of Small-, Medium- and Large-sized Touch screens
Status Quo and Trend of Metal Mesh and AgNW
Analysis on Display Downstream Market
Analysis on Display Driver IC Market and Industry
Analysis on Touch IC Market and Industry
11 Driver IC Design Houses
10 Touch IC Design Houses
In 2013, global display driver IC market size skyrocketed by 10.7% to USD 6.882 billion, and is expected to be worth USD 7.278 billion in 2014, with an increase of 5.6%. The rise in the display driver IC market scale can be attributed to the factors below:
Browse Full Report With TOC:
http://www.marketresearchreports.biz/analysis-details/global-and-china-display-driver-and-touch-ic-industry-report-2013-2014.
Market acceptance of 4K2K UHD-TV exceeded expectations and it is expected that market size will expand rapidly.
Resolution of screens on mobile phones and tablet PCs improved significantly, and there will be at least 30 million mobile phones with QHD (Quad High Definition, 2560*1440) screens to be shipped in 2014, including blockbuster Samsung S5, G3 from LG, Lumia 1820 from Nokia, and Find7 from OPPO.
Resolution of computer display and notebook computer screen also improved substantially, and the number of Driver IC increased greatly.
The most noteworthy in Driver IC industry in 2014 is the sale of Display Driver IC unit by Renesas. Since its inception, Renesas has operated in the red. In order to dig its way out of losses, the company sold some non-core assets, while its medium and small-sized Display Driver IC unit is fairly profitable. Renesas is a principal supplier of driver IC for Apple phones, but its main business comes to MCU. Broadcom, Synaptics and Novatek will be the most likely buyers. Especially, Synaptics, a leading company in touch IC market, would become a dual leader in medium and small-sized Display Driver IC and Touch IC markets, if its bid for Renesas succeeded.
To Download Full Report with TOC:
http://www.marketresearchreports.biz/sample/sample/193870
For its future trend, the touch IC of mobile phone is to be integrated mainly driven by cost and technology. Technically, it can be integrated with either Driver IC or AP, with the former being expected to be the mainstream. In addition to cost cuts, On-cell/In-cell technology is more suitable for integrating Driver IC and Touch IC. As parts of LCD display module, Driver IC and Touch IC can be completely independent of AP. It is expected that TDDI (Touch Display Driver IC) will start to be shipped progressively from the second half of 2014.
Another trend in Touch IC field is In-cell and On-cell. In the past, On-cell was mainly expensive and noble AMOLED panel. However, from the year 2014, we will see a-Si LCD mobile phone panel equipped with On-cell Touch to be shipped from Taiwanese and Chinese companies, including AUO, Innolux, CPT, Hannstar, BOE and Tianma, etc. It is expected that 5%-10% of China's mobile phone industry will be provided with On-cell Touch LCD. Several IC tycoons are producing On-cell Touch IC, among which Synaptics releases its production at the fastest pace, followed by FocalTech.
Buying Report With Toc:
http://www.marketresearchreports.biz/analysis/193870
Table of Content
1. Profile of Driver IC
1.1 Introduction to TFT-LCD Driver IC
1.2 Manufacturing Process of Driver IC
1.3 Introduction to Touch IC
1.4 Development Trend of Touch IC
1.5 Technology Trend of Mobile Phone Touch Screen
1.6 Development Trend of Medium-sized Touch Screen
1.7 Development Trend of Laptop Computer Touch Screen
1.8 AIO PC Touch Screen
2. Display Downstream Market
2.1 Market Size of Touch Screen
2.2 Laptop Computer Market
2.3 Tablet PC Market
2.4 Mobile Phone Market
2.4.1 Global Mobile Phone Market Size
2.4.2 Smartphone Market and Industry
3. Touch and Driver IC Industry
3.1 Supply Chain of Driver IC
3.2 Development Trend of Driver IC
3.3 Display Driver IC Market
3.4 Display Driver IC Industry
3.5 Market Size of Touch Screen
3.6 Ranking of Touch Screen Vendors
4. Major Driver IC Vendors
4.1 Renesas
4.2 Novatek
4.3 Himax
4.4 Ilitek
4.5 Raydium
4.6 Orise
4.7 Sitronix
Latest Reports:
Type 2 Diabetes - Pipeline Review, H1 2014: Market Trends and Forecast
http://www.marketresearchreports.biz/analysis-details/type-2-diabetes-pipeline-review-h1-2014
Global Markets Direct's, 'Type 2 Diabetes - Pipeline Review, H1 2014', provides an overview of the Type 2 Diabetes's therapeutic pipeline.
This report provides comprehensive information on the therapeutic development for Type 2 Diabetes, complete with comparative analysis at various stages, therapeutics assessment by drug target, mechanism of action (MoA), route of administration (RoA) and molecule type, along with latest updates, and featured news and press releases. It also reviews key players involved in the therapeutic development for Type 2 Diabetes and special features on late-stage and discontinued projects.
Global Markets Direct's report features investigational drugs from across globe covering over 20 therapy areas and nearly 3,000 indications. The report is built using data and information sourced from Global Markets Direct's proprietary databases, Company/University websites, SEC filings, investor presentations and featured press releases from company/university sites and industry-specific third party sources, put together by Global Markets Direct's team. Drug profiles/records featured in the report undergoes periodic updation following a stringent set of processes that ensures that all the profiles are updated with the latest set of information. Additionally, processes including live news & deals tracking, browser based alert-box and clinical trials registries tracking ensure that the most recent developments are captured on a real time basis.
To Download Full Report With TOC: http://www.marketresearchreports.biz/sample/sample/193843
Scope
The report provides a snapshot of the global therapeutic landscape of Type 2 Diabetes
The report reviews key pipeline products under drug profile section which includes, product description, MoA and R&D brief, licensing and collaboration details & other developmental activities
The report reviews key players involved in the therapeutics development for Type 2 Diabetes and enlists all their major and minor projects
The report summarizes all the dormant and discontinued pipeline projects
A review of the Type 2 Diabetes products under development by companies and universities/research institutes based on information derived from company and industry-specific sources
Reasons to buy
Provides strategically significant competitor information, analysis, and insights to formulate effective R&D development strategies
Identify emerging players with potentially strong product portfolio and create effective counter-strategies to gain competitive advantage
Develop strategic initiatives by understanding the focus areas of leading companies
Identify and understand important and diverse types of therapeutics under development for Type 2 Diabetes
Plan mergers and acquisitions effectively by identifying key players of the most promising pipeline
Global Leisure Boat Market Report: 2014 Edition
http://www.marketresearchreports.biz/analysis-details/global-leisure-boat-market-report-2014-edition
A leisure boat is also known as pleasure craft or recreational boat that is designed for and capable of moving in water with a maximum length of up to 24 meters, and is meant to be used for recreational or leisure activities only, and is not utilized in any type of business or moneymaking venture. The pleasure craft may also be used as a temporary residence for the owner, and often is equipped with amenities that are like those that are found in a home, albeit on a smaller scale. The very craft could be motorized or non-motorized depending upon the boat type. Now days, several types of pleasure crafts are available with a broad range of variants.
The leisure boat industry represents only a small fraction of the global leisure industry. The leisure boat industry was hit hard during global recession as demand in major overseas markets such as the US and Europe was impacted by economic slowdown. The United States and Europe are the principle regions for the leisure boat market, which collectively represent a significant share of the global leisure boat trade statistics. Though these markets are on the verge of maturity, there still lies a tremendous growth opportunity in these markets.
To Download Full Report With Toc: http://www.marketresearchreports.biz/sample/sample/193774
Specifically, in terms of adult participation, production units, and increased revenues, the leisure boat industry performed on a noteworthy scale over the past 10 years. In addition, factors like increasing participation in the boating activity, rising income and population of HNIs, ameliorating global economy, ardent tourism industry and increasing urban population are further fueling the growth of leisure boat industry. Despite the existence of various growth drivers, there are certain challenges faced by the industry including environmental concerns, impacts of adverse weather conditions like floods, drought, unreasonably hot or cold weather, shortage of boat moorings and contention from other leisure activity sources which can potentially hinder the growth of the industry.
About Us
Marketresearchreports.biz (http://www.marketresearchreports.biz/) is the most comprehensive collection of market research reports. Marketresearchreports.biz services are especially designed to save time and money of our clients. We are a one stop solution for all your research needs, our main offerings are syndicated research reports, custom research, subscription access and consulting services. We serve all sizes and types of companies spanning across various industries.
Contact US:
Office: United States
State Tower
90 State Street, Suite 700
Albany, NY 12207
Tel: +1-518-618-1030
E: sales(at)marketresearchreports(dot)biz