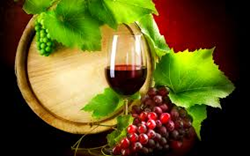 Wine is bottled poetry!
(PRWEB UK) 14 April 2014
Robert Louis Stevenson might have been onto something when he said, "Wine is bottled poetry!" Wine tourism is fast gaining popularity and with celebrities like Drew Barrymore, Fergie, Madonna and Sam Neill owning vineyards, it's only a matter of time before the non-famous folks start seeking out destinations for some quality wine tasting. JoGuru makes your hunt easier and lists the top 10 wine tasting destinations.
1. Umbria, Italy:
When to Go: June-August.
Vineyards: Il Palazzone, Decugnano dei Barbi.
Specialty Wines: Sagrantino di Montefalco, Rosso di Montefalco, Grechetto.
If it's not for the sun, it's the food and if it's not the food, it's the wine! There's always a reason to visit Tuscany and Umbria...the charm of Umbria lies in its well preserved towns and unspoiled beauty. The art of wine making from Italy needs no introduction, but the sheer number of vineyards sure doesn't harm the reputation.
2. Aegean Islands, Greece:
When to Go: August.
Vineyards: Santo Wines, Malagari Winery.
Specialty Wines: Assyrtiko, Aidani, Mantilari.
The Greeks have been making and drinking wine for as long as time. Even though the quality of wine produced has seen a gradual decline, that doesn't deter travelers from visiting the whitewashed villages overlooking the sea to delve into the history of wine making and sample some coveted wines.
3. Valle de Guadalupe, Baja California, Mexico:
When to Go: All year round.
Vineyards: Baron Balche, LA Cetto.
Specialty Wines: Cabernet Sauvignon, Zinfandel, Chardonnay.
From the land of tequila and Tecate beer, Valle de Guadalupe brings you delicious wines high in alcohol content, with a hint of saltiness that is found in the water used to irrigate the vineyards. Don't be thrown off because it's Mexico; they have been producing wine as early as 1904 with the arrival of the Russian immigrants.
4. Mendoza, Argentina:
When to Go: Spring or fall.
Vineyards: Alta Vista, Kaiken.
Specialty Wines: Malbec, Merlot, Torrontés.
The first striking feature about Mendoza is the Andes in the backdrop and the high peaks that stand guard over the acres of vineyards in the valley below. Not only does the weather call for some wine but once you see the architecturally resplendent wineries and techniques employed to process the wine, you'll know why Mendoza is a leading destination for wine tourism.
5. Barossa Valley, Australia:
When to Go: All year round.
Vineyards: Jacob's Creek, Chateau Tanunda.
Specialty Wines: Shiraz, Grenache, Mataro.
When it comes to wine, Australia really brings it to the table. The Barossa region in itself is a popular tourist destination and with wine tourism on the rise, the Barossa Valley is only going to scale new heights. The pride of South Australia, not many wineries can be enjoyed all year round as much as the ones in the Barossa Valley.
6. Texas Hill Country, USA:
When to Go: October.
Vineyards: Grape Creek Vineyard, Perissos Vineyards & Winery.
Specialty Wines: Tempranillo, Syrah, Petite Sirah.
The Lone Star State not only beckons visitors but grapes as well. There's no better place you could visit if you're looking for a chance to interact with wine makers. Loved for the old fashioned charm they've managed to keep intact in spite of the several wineries coming up, it only adds to their repertoire. Sip some award winning wine and taste some meat, grilled cowboy style.
7. Sonoma County, California:
When to Go: August-October.
Vineyards: Paul Hobbs Winery, Jordan Winery.
Specialty Wines: Pinot Noir, Chardonnay, Zinfandel.
The state of California is no stranger to producing world famous wines. However, many connoisseurs have been heard saying that Napa Valley is a little too commercialized to enjoy wine tastings. If not, Napa Valley, then what? Sonoma County of course! All the three enticing factors of a winery- wine, food and surroundings- will have you saying Napa who?
8. Baden, Germany:
When to Go: Fall.
Vineyards: Schwarzer Adler, Schloss Staufenberg.
Specialty Wines: Pinot Noir, Pinot Gris, Pinot Blanc.
Baden, the sunniest region in Germany is the quintessential climate for wineries to thrive in. Sharing borders with France and Switzerland, Baden wines do have that blend of a French and Swiss influence processed with the German techniques. If there's ever a vineyard you'd want to buy, it'll be in Baden….
9. Walla Walla, Washington.D.C:
When to Go: Fall.
Vineyards: Àmaurice Cellars, Basel Cellars Estate Winery.
Specialty Wines: Merlot, Syrah.
The Walla Walla has quite an intimate community and highly regarded for the wines they produce. With over a 100 wineries, not far from the city limits, you could plan a short weekend getaway and enjoy wine tastings in a simple and picturesque setting.
10. Languedoc, France:
When to Go: Spring and fall.
Vineyards: Alain Cavailles Domaine de l'Hortus.
Specialty Wines: Languedoc, Corbières, Grenache.
No wine list is complete without the world's largest wine producing region. The variety of wine made here is crazy and there's never enough time to taste them all. The vineyards itself provide such stunning vistas, sidelining even the Mediterranean coastline.
Well, there you have it. Need anyone say more?