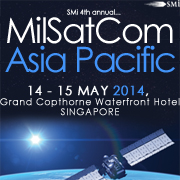 Singapore, Singapore (PRWEB UK) 10 April 2014
Given Singapore's launch into the space and satellite industry with the new Singapore Office for Space Technology & Industry announced this summer, we decided to hold our conference again in the Asia hub Singapore. This initiative is made up of many different organisations including the Singapore Armed Forces and according to various sources, will have a profound impact on Singapore's satellite industry. As well as exploring the new satellite opportunities in both the civil and defence sectors, this year's conference will be focusing particularly on the implications of the US forces moving out to Asia, new technological advancements such as picosatellites and maritime security and other issues facing the industry such as cost-effective usage of satellites.
The 2014 speaker line-up includes presentations from:

Lieutenant Commander Owen Gee, C4 EW Requirements Maritime, New Zealand Defence Force
Captain Jirapol Wongwit, Director of Policy and Plans Division, Royal Thai Navy
Captain Anthony Rommel SD Reyes PN GSC, Global Satellite Communications, Philippine Navy
Major Melissa Reyes, Deputy Project Director, Canadian Department of Defence
Lionel Frion, Engineer Spectrum, French Ministry of Defence
Harold Haney, Chief Space & Missile Defense Division, USSTRATCOM
Patrick Gibassier, Head of Government Satcoms Export Sales, Airbus Defence & Space
"D" D'Ambrosio, EVP, Government Services, O3b Networks
Tom Cheong, Vice President & General Manager Asia-Pacific, iDirect Asia
Nicolas Stephan, Business Development Director Asia, Swedish Space Corporation
Tim Frei, Vice President Communication Systems Space Systems Division, Northrop Grumman Aerospace Systems
Dr Danielle Wood, Adjunct Researcher, Systems Institute, Johns Hopkins University
Gregg Daffner, GVF Hong Kong Correspondent/CEO, Global VSAT Forum
Jose del Rosario, Senior Analyst, Northern Sky Research
Lieutenant Commander Georgios Mantzouris, Ph.D, Hellenic Navy
Riaz Lamak, International Director Benchmarking & Validation, Global VSAT Forum
Seshadri Vasan, Head, Strategy and Security Studies, Centre for Asia Studies
For more information about this industry leading event, to download the event's brochure including complete list of speakers and their presentations, or to register, please go to http://www.smi-online.co.uk/2014milsatcom-asia7.asp.
This year's conference highlights are:
Hear from a technical expert about emerging satellite programmes in Asia
Learn about the US Forces pivot to the Pacific and implications for the SatCom industry in Asia from US representatives
Explore picosatellites and their implications for the future of Maritime from the Hellenic Navy
Hear from the Philippine Navy about their future plans for MilSatCom
Discuss the future of SatCom in Asia and other issues facing the region such as cost-effective use of SatCom
Gain an insight into the legal aspects of satellite certification in Asia and satellite filing requirements from the French MoD
Meet and network with satcom solutions providers, top military representatives and satcom experts in this field
For further details contact James Hitchen on +44(0) 207 827 6054 or e-mail jhitchen(at)smi-online(dot)co(dot)uk.
Media-partners contact: Julia Rotar (jrotar[at]smi-online[dot]co[dot]uk), Daniel Lee (dlee[at]mi-online[dot]co[dot]uk)
Event's website http://www.smi-online.co.uk/2014milsatcom-asia7.asp.