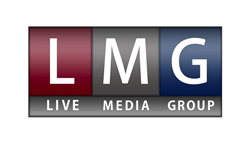 "We were amazed at the success of the Virtual Wristband for BUKU so we brought that technology back for Tortuga," said Jeff Kreinik, COO of Huka Entertainment.
Los Angeles, CA & Ft. Lauderdale, FL (PRWEB) April 10, 2014
Huka Entertainment announced this week they are partnering with Live Media Group to bring Rock The Ocean's Tortuga Music Festival live to fans around the globe on the web and mobile devices. In addition, new artists were added today including Dierks Bentley that will be featured at the live event.
After the successful Buku Music + Art Festival live web broadcast in March, Huka Entertainment re-enlisted the services of Live Media Group to handle all creative and production execution of the Tortuga festival broadcast. With features like multiple cameras for users to control and the social stream where users can interact during the live event, the LMG team with their superior technology is the most powerful in the second screen space.
Tens of thousands will be attending Rock The Ocean's Tortuga Music Festival in Fort Lauderdale on April 12-13 but with the success of Virtual Wristband®, thousands more will have the opportunity to watch and experience the festival on the official website. The Virtual Wristband® technology creates an unlimited amount of 'virtual tickets' for fans to purchase so they can experience live events. For fans who can't travel to Florida for Tortuga, Virtual Wristband gives them a chance to see what they are missing, live on the internet and mobile devices.
"We were amazed at the success of the Virtual Wristband for BUKU so we brought that technology back for Tortuga," said Jeff Kreinik, COO of Huka Entertainment. "This live stream will allow a worldwide audience to experience both great artist performances and the amazing beachfront setting in Fort Lauderdale through this technology."
With Virtual Wristband® fans can see and experience exciting live sets from Eric Church, Sheryl Crow, 38 Special, Moon Taxi, Frankie Ballard and more. Users have the option to purchase the full festival "virtual pass" or a single artist performance.
LMG's Virtual Wristband® is a live online pay-per-view technology that includes an online video player giving access to fans so they can engage and control multiple live cameras, a live social stream with Twitter, Facebook, Tumblr and Instagram, in addition to artist re-broadcast and encore performances. "Live Media Group has created a solution to sold-out entertainment and music events," said Brad Sexton, President and CEO of Live Media Group. "Virtual Wristband® creates unlimited tickets so the fan who can't attend the actual event can watch live and still experience it virtually."
In addition to purchasing Virtual Wristband access codes to Rock The Ocean's Tortuga Music Festival, fans will also have the opportunity to donate to the charity associated with Tortuga, Rock the Ocean Foundation, whose goal is to support scientific research and education while increasing public awareness about the issues impacting the world's oceans. For more information on Rock The Ocean's Tortuga Music Festival and to purchase an access code through Virtual Wristband® visit http://livestream.tortugamusicfestival.com/.
About Huka Entertainment
New Orleans, LA-based HUKA Entertainment is a privately held full-service production, talent-buying and promotion company that specializes in festivals, concerts and events of all sizes. Known for groundbreaking innovation at festivals throughout North America, HUKA Entertainment produced the Concerts for the Coast series featuring Jimmy Buffett, Bon Jovi and Brad Paisley; is the co-founder, producer, talent-buyer and promoter of the award-winning Rock The Ocean's Tortuga Music Festival (Fort Lauderdale, FL); is the co-founder, producer, talent buyer and promoter of Pemberton Music Festival (Pemberton, BC); is the co-producer and co-promoter of BUKU Music + Art Project (New Orleans, LA) and is the co-founder of the award-winning Hangout Music Festival (Gulf Shores, AL), for which it was producer, talent buyer and co-promoter from 2010 through 2013. HUKA Entertainment also books talent for and/or promotes a variety of concerts and events throughout the Southeastern United States. http://www.hukaentertainment.com
About Live Media Group
Live Media Group (LMG) is the premier full service entertainment and technology company offering turnkey solutions for 1st and 2nd screen LIVE events. LMG's services range from Creative Concepts, Live Direction, Production Services, Post Production, Transmission, Encoding, the nowlive video player technology, VOD Archiving and total fulfillment on all aspects of broadcast events. LMG's best in class reputation stems from collectively producing hundreds of the biggest events to appear on any screen including: Live from the Red Carpet at The Oscars, Emmys, Grammys, Bud Light Hotel, Superbowl and 50/50/1 concert events, The Hunger Games, Twilight and Hobbit franchise red carpet premieres, Jazzfest, Hangout, Yahoo Wireless Music festivals, E3 and CES to name a few. For more information visit live-media-group.com.