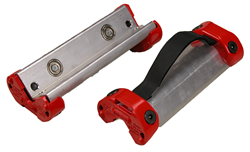 Our ultimate goal is to improve safety and performance standards in the lifting industry, and the Sling Shield is an achievement toward that goal
Landisville, PA (PRWEB) April 22, 2014
The sling experts at Lift-All are pleased to announce the arrival of the Sling Shield™, an innovative system designed to combat the cutting and wearing that can occur with synthetic slings. Cutting is the leading culprit in damaged and compromised synthetic slings. Sling Shields work to prevent slings from being cut by increasing the radius of load edges. The Sling Shield affords riggers with characteristics which greatly improve safety, while saving time and money.
A sling that is cut can be catastrophic to both the load and the people near the lift. Sling Shields are designed to prevent cutting, thereby making a safer work environment.
Time to rig a load is reduced by the use of magnets to hold the Sling Shield in place on steel loads during rigging, as well as the retaining straps which keep the sling positioned against the Sling Shield before tension is applied.
If you can prevent the cutting of slings, those slings may need to be replaced less often, saving you money.
"To be able to see an obstacle that affects our industry and create a product that addresses that obstacle is exciting and gratifying for us," said Marketing Manager, Jeff Kauffman. "Our ultimate goal is to improve safety and performance standards in the lifting industry, and the Sling Shield is an achievement toward that goal," added Kauffman.
Lift-All's Sling Shield contains several features which speak to its value and effectiveness, including polycarbonate end restraints that guard against the sling leaving the bar when lifted at an angle, and an aluminum bar that serves as a support for slings that endure extreme tension under load. The recent innovation complements an already well-rounded suite of popular sling products offered by the team at Lift-All, like the Tuff Edge® II web slings, Tuflex® roundslings and LiftAlloy chain slings.
Since 1964, Lift-All has grown to become the largest and most well known sling manufacturer in North America. Offering only the finest in Slings, Tie Downs, Hoists and other accessories, Lift-All's presence in the sling industry is second to none. With a focus on value and esteemed customer service, Lift-All is not only known for quality products, but also dedication and integrity.