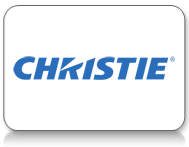 pushing the envelope of innovation
China, Beijing (PRWEB) April 18, 2014
Christie®, a global leader in visual display solutions, is showcasing comprehensive end-to-end visual solutions for various applications at InfoComm China, which takes place at the China National Convention Center April 9-11, 2014.
Christie"s multi-zone display at booth #EE1-01 will welcome visitors with a striking and fascinating product showcase divided into six zones, namely, "Share," "Display," "Imagine," "Collaborate," "Visualize" and "Interact." Each zone will feature state-of-the-art Christie products that are ideal for specific applications.
"As a total solutions provider, Christie"s mission is to enable people to share information and ideas, and to transform their goals into reality through our cutting-edge visual display technologies," said Lin Yu, vice president, Christie Asia Pacific. "We pride ourselves as an industry leader that defines the future of visual display technology by staying abreast of market needs and pushing the envelope of innovation. For this event, we"ve strategically positioned our advanced technologies to deliver end-to-end solutions that offer the highest performance and flexibility at the lowest cost with the very best in customer service and after-sales support."
Frank Xiao, general manager, Christie China, added, "InfoComm China is one of the biggest AV tradeshows in China and Christie has been a regular participant of this huge event that draws both international and domestic exhibitors, as well as trade visitors across the professional and end-user fraternities. We hope that this year"s event will enable Christie to further reach out to stakeholders from numerous fields through the comprehensive showcase of our advanced solutions."
Zone 1 "Share" (Christie Brio)
Debuting at InfoComm China in the "Share" Zone is the versatile Christie® Brio, which is designed to meet the requirements of users requiring multi-location collaboration. It allows users to virtually meet, share information, collaborate effortlessly, overcome geographical distances, and eliminate the challenge of single and multi-site workplace meetings. Once connected to Christie Brio, presentations and high quality media can easily be shared between sites anywhere in the world via IP networks, allowing all participants to see and work on the same content.
Zone 2 "Display" (Christie QuadHD84)
The "Display" Zone reinforces Christie"s position as a market leader of advanced visual technologies with the stunning 84-inch Christie® QuadHD84 LCD panel featuring Quad HD resolution (3840 by 2160) and true 60Hz refresh update rate for a natural display performance without judder or blurring. Targeted at users that require high brightness and high quality visual solutions for fixed installations or rental staging applications, the Christie QuadHD84 offers an easily deployable and affordable high-definition display solution. It is perfect for presenting complex, detailed data for visualization, delivering powerful presentations or accurately monitoring and collaborating in decision-making situations. Its fast processing also ensures high performance and meets the needs of complex visualization.
Zone 3 "Imagine" (Christie Spyder)
The focus of the "Imagine" Zone is no other than the Christie Spyder X20, the world"s most powerful video processor. It provides true flexibility needed for users to display and control different contents simultaneously. The rugged Christie Spyder X20 deployed at this zone will power multiple displays such as the Christie E Series and G Series 1-chip DLP® projectors and a Christie FHD551-W 55-inch flat panel to generate high-tech, high-quality video wall displays that are also suitable for applications such as monitoring and surveillance, command-and-control, action review and situational analysis.
Zone 4 "Collaborate" (Christie Phoenix)
Another highlight of Christie"s booth is the "Collaborate" Zone that features a multiple-source display solution with screen wall that simulates a control room environment. Showcasing the Christie® Phoenix™ that enables seamless access and control of audio-visual data regardless of the user"s location, as well as six 80-inch Christie Entero™ HB video wall display cubes, the setup is ideal for users that require a high quality command and control display solution with a controller to display critical information. A network streaming solution at its core, the Christie Phoenix allows users to collaborate, synthesize and generate fast and accurate decisions in the most critical situations, while the Christie Entero™ HB display cubes are the most customizable video wall display solutions for a wide range of environments.
Zone 5 "Visualize" (Car Mapping)
A must-see at Christie"s booth is an impressive car mapping display at the "Visualize" Zone utilizing four Christie Roadster S+22K-J 3-chip DLP® projectors equipped with Christie Twist™ software for optimal image warping and blending. The projection mapping display, to be performed on a luxury sedan, will enthrall visitors with dynamic and spectacular visuals. Christie"s 3-chip DLP® projectors are used around the world for projection mapping presentations, creating dynamic 2D and 3D images that transform what is reality for the audience into illusions and images that are ideal for advertising, branding, entertainment, public art, and trade show presentations. Recent large-scale events in China using Christie technology to deliver breathtaking projection mapping performances include the New Year"s Eve countdown at the Shanghai Bund and the 5D show at Wuxi National Digital Film Industrial Park.
Zone 6 "Interact" (Christie MicroTiles)
The "Interact" Zone features the Christie® MicroTiles® provides amazing image quality, vibrant, true-to-life colors, brilliant displays and the flexibility to design in almost any shape or size. Presented in an array of six units wide by four units high, featuring Christie Interactivity Kit and Christie Jumpstart, Christie MicroTiles offer users the freedom to interact and are perfect for users from various industries that require a stunning visual display to showcase their products and, at the same time, create a unique experience for their potential consumers. The breakthrough design of Christie Interactivity Kit enables multiple users to interact simultaneously with content on Christie MicroTiles by transforming it into a multi-touch surface, while Christie JumpStart automatically recognizes Christie MicroTiles and optimizes the resolution of the display canvas.
Comprehensive Line of Business Products
Besides the six themed zones, Christie will also showcase its line of Business Products comprising 3LCD, 1-chip and 3-chip DLP® projectors such as the Christie LX Series, E Series, J Series, M Series, Q Series that are suitable for corporate meeting rooms, higher education, houses of worship, government and other small to medium sized venue applications. The XGA and WXGA LCD projectors combine high performance features, such as plug-and-play integration options, repeatable lens recall capabilities and maintenance-free filters, with high-value affordability. Finally, the benefits of using the Roadie HD+35K for rental staging applications will be highlighted.
About Christie®
Christie Digital Systems USA, Inc. is a global visual technologies company and is a wholly-owned subsidiary of Ushio, Inc., Japan. Consistently setting the standards by being the first to market some of the world's most advanced projectors and complete system displays, Christie is recognized as one of the most innovative visual technology companies in the world. From retail displays to Hollywood, mission critical command centers to classrooms and training simulators, Christie display solutions and projectors capture the attention of audiences around the world with dynamic and stunning images. Visit http://www.christiedigital.com.
For more information, contact:
CHAN Tsung Yi
Public Relations Manager
Asia Pacific
Phone: + 65 6877 8793
Email: tsungyi(dot)chan(at)christiedigital(dot)com
LU Yi
China Marketing Manager
Phone: + 86 21 6278 7708
Email: yi(dot)lu(at)christiedigital(dot)com
Christie® is a trademark of Christie Digital Systems USA, Inc., registered in the United States of America and certain other countries.
DLP® is a registered trademark of Texas Instruments.