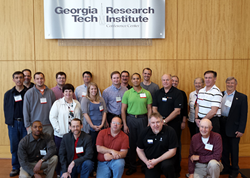 In the Leadership Series, we strive to provide the tools that current and future leaders need to dream more, learn more, do more.
Dearborn, Mich. (PRWEB) April 10, 2014
The SME Leadership Series recently marked its eighth year with a session in Atlanta from March 28 to 29. The interactive workshop provides workforce development to SME members and other attendees by demonstrating how to create structure as a leader, examining why people choose to follow leaders and highlighting the behavioral traits of successful leaders.
"Leadership is not telling people what to do — it is being there for them every day, in every way," said lead presenter Mark Michalski, SME international director and senior director of technical operations and strategy at MKS Instruments. "In the Leadership Series, we strive to provide the tools that current and future leaders need to dream more, learn more, do more."
Through self-assessments, group exercises, roleplaying and multimedia presentations, SME Leadership Series participants are given insight into both effective and ineffective leadership traits and practices ― all from presenters who are current leaders in manufacturing, as well as volunteer leaders for SME. The practical advice and real-world examples provide guidance to attendees to help them be better leaders, regardless of title, position or career level.
"The interactive activities force the learning process and I've acquired helpful techniques that I've been able to implement in the workplace," said Daniel Kochan, manufacturing engineer at Seasons 4 Inc. and chair-elect for SME's Atlanta Chapter 61; Kochan has attended three sessions. "Each series has provided useful tips for leading in a manufacturing environment."
The remaining SME Leadership Series will be held in Covington, Ky. (Cincinnati area), April 11 to 12; San Francisco, Sept. 19 to 20; and Toronto, Oct. 17 to 18. This member benefit is available at no additional cost to SME members; nonmembers are charged a fee of $250. To register, visit sme.org/leadership.
About SME
SME connects all those who are passionate about making things that improve our world. As a nonprofit organization, SME has served practitioners, companies, educators, government and communities across the manufacturing spectrum for more than 80 years. Through its strategic areas of events, media, membership, training and development, and the SME Education Foundation, SME is uniquely dedicated to advancing manufacturing by addressing both knowledge and skill needs for industry.