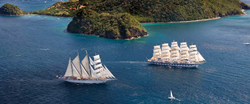 "Their turnkey communications solution allows Star Clippers to maximize our luxury amenities to include reliable internet, phone and data services, creating a better experience for our customers while sailing with us." - Star Clippers Executive Team
Miami, FL (PRWEB) April 10, 2014
Global satellite (VSAT) and terrestrial communications services provider Emerging Markets Communications (EMC) announced today that it has been awarded a contract to provide satellite connectivity for a fleet of Star Clippers' sailing vessels, some of the largest and tallest vessels in the world. Star Clippers is recognized as a premier specialty cruise line, offering passengers the activities, amenities and atmosphere of a private yacht while also providing an exclusive experience, visiting smaller, more intimate ports untouched by larger commercial cruise liners. These vessels must have access to satellite beams across the Atlantic Ocean, as cruises are offered in various locations throughout the Caribbean, Latin America, Europe and the Mediterranean.
EMC will deliver full internet and phone services using its Global Ku-Band network, allowing for cruise passengers and staff to enjoy reliable connectivity solutions while at sea. Maritime antennas installed on the vessels will connect to EMC's fully owned and operated teleport locations. Star Clipper personnel onboard will also have access to EMC's renowned 24x7 technical support, providing remote access and network management in multiple languages, as well as easy and flexible payment options with the ability to provide passengers with personal prepaid access cards.
"Our relationship with Emerging Markets Communications has been invaluable in delivering quality communications solutions to our exclusive clientele aboard our vessels," says Star Clippers' executive team. "Their turnkey communications solution allows Star Clippers to maximize our luxury amenities to include reliable internet, phone and data services, creating a better experience for our customers while sailing with us."
EMC's maritime connectivity solutions integrate reliable bandwidth options with value added services, including Wi-Fi, GSM and VoIP. The solution allows customers to choose dedicated or shared bandwidth, combined with a tailored selection of on-board, value-added services. EMC's solutions are designed for maritime customers in private and commercial yachting, oil and gas, fishing, and shipping segments within the industry.
"This opportunity for EMC to provide VSAT services for the Star Clippers fleet is a tremendous indication of our expertise and growing capabilities in the maritime space," says Jesus Barber, Vice President of Maritime Sector at Emerging Markets Communications. "We are thrilled to work with this large player to exhibit our experience in the sailing and cruising industry and look forward to supporting our growth strategy in the maritime sector by expanding our business relationships and technological advancements within this space."
About Emerging Markets Communications
Emerging Markets Communications® is a global satellite and terrestrial communications company specializing in delivering mission-critical, network services for the global energy industry, maritime, mobile network operators, carriers, governments, NGOs and worldwide enterprises with locations in the most remote and/or challenging areas of the world. As a proven industry leader, Emerging Markets Communications® enables customers the agility, scalability and efficiency designed to facilitate growth for their global operations.
The company operates in 140 countries, with over 35 global field support centers and wholly-owned infrastructure of teleports and terrestrial pops in US, Europe and Africa. Emerging Markets Communications® is financially backed by ABRY Partners; a firm specialized in funding the communications industry with $36 billion of completed transactions.
For more information, call 1+305-539-1358, email sales(at)emc-corp(dot)net or visit http://www.emc-corp.net. Connect with us on Linked-In or Twitter @emergingmktscom and on Facebook at http://www.facebook.com/EmergingMarketsCommunications.
Media Contact – Nicole Aguillard, naguillard(at)emc-corp(dot)net or 1+ 713-213-9742