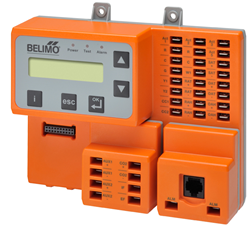 "The ZIP Economizer is unlike any other economizer on the market today", states Darryl DeAngelis, Product Manager for Belimo. "It gets energy savings back on track with its advanced logic, easy user interface, and superior troubleshooting capability.
Danbury, Connecticut (PRWEB) April 12, 2014
The Belimo ZIP Economizer offers the most technologically advanced airside economizer solution with patented ZIP code high limit setup, FDD, and alarm history. Unlike other economizers, the ZIP Economizer provides a plug-and-play modular design, LCD display, and on-board help backed by Belimo's technical support team and a 5-year warranty.
The California Energy Commission's energy efficiency standards have saved Californians more than $74 billion since 1977. The savings were calculated by determining the energy savings associated with a more efficient building standard. Savings accumulate over time as older equipment are replaced with newer, more efficient models and older buildings replaced with new construction.
The ZIP Economizer is now certified under the Fault Detection & Diagnostics requirements of the California Energy Commission and exceeded the requirements for air-side economizers. Detailed test report shows the level of compliance as well the Fault Detection & Diagnostic documentation is available online or you can contact your local Belimo District Sales Manager.
The California Energy Commission Certification Number BZE1245 for the ECON-ZIP-BASE is listed on the CEC website.