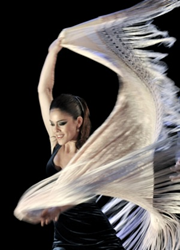 The largest festival of its kind outside of Spain
Düsseldorf, Germany (PRWEB) April 10, 2014
The cool city on the Rhine is home to the steamy annual Flamenco Festival, the largest festival of its kind outside of Spain. This year's Flamenco Festival (April 11-21, 2014) is a highlight for Flamenco lovers, 2,000 of whom will come to Düsseldorf from all over the world. The extensive program offers many opportunities to watch, study, and practice the dance genre's contemporary avant-garde, and features six stage performances, of which four are Germany premieres, and Flamenco wizards such as Juan Carlos Lérida, Sònia Sánchez, and Juan Kruz Díaz de Garaio Esnaola. 17 workshops complement the performances. The festival takes place at Düsseldorf's tanzhaus nrw (theatre for dance North-Rhine Westphalia).
Highlights
Juan Carlos Lérida is considered a top avant-garde artist by Flamenco experts, and his piece "Al Cante," a German premiere, explores Flamenco singing through a theme of space travel and moon landing.
Juan Kruz Díaz de Garaio Esnaola, member of Berlin-based company Sasha Waltz & Guests, presents his new production "Romances," a humorous dance piece inspired by Spanish romantic medieval literature and music, performed by dancers Rafael Estévez and Valeriano Paños, and singer Sandra Carrasco.
"Le ça. El Ello" is a solo piece by dancer Sònia Sánchez and is a non-musical exploration of the body's memory and an expression of the sounds, positions, gestures, and melodies that inhabit her inner world.
The extensive workshop program offers many options for dance lovers at all levels. The offerings range from a beginners' workshop offered by the venue's popular resident docent José Manuel Sánchez Moreno to an advanced level four-day workshop titled "Soleá y Pataitas de Bulerías de Jerez" by Leonor Leal.
For more information on Flamenco Festival in Düsseldorf and to purchase tickets, please visit http://www.tanzhaus-nrw.de.
Düsseldorf's tourism office is offering hotel and city specials for many of the city's events throughout 2014, including Flamenco-Festival. The package, called "Düsseldorf à la Card," can be booked right from the tourism office's website at https://www.duesseldorf-tourismus.de/en/hotel-packages/duesseldorf-a-la-card/. Prices start at €49 per night per person based on double-occupancy for a 2-3-star hotel in the city center and at €95 per person for a 4-star hotel. The package includes breakfast, one DüsseldorfCard (free public transportation within city limits plus 30 free or reduced admissions to city attractions), a city information package. Please check the website for current information.
For more information on the destination Düsseldorf and a calendar of events, visit http://www.visitduesseldorf.de.
###
Düsseldorf Marketing & Tourism GmbH is the visitors and convention bureau of the city of Düsseldorf. Its responsibilities include tourism and city marketing, as well as conference and meeting marketing, hotel reservation services, fairs and convention services, city event ticket sales and advance ticket reservations. For more information, visit http://www.visitduesseldorf.de.
Düsseldorf Airport, Germany's Next Generation HubTM, offers several non-stop flights from US & Canadian cities (Atlanta, Chicago, Ft. Myers, Los Angeles, Miami, New York, Newark, Toronto), as well as convenient connections to many European cities. For more information about the airport, visit http://www.dus.com.