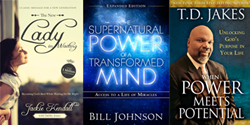 Shippensburg, PA (PRWEB) April 15, 2014
Well-known authors T.D. Jakes, Cindy Trimm, and Bill Johnson are just the beginning of the list for Destiny Image's upcoming seasonal releases. Among these veterans are a few up and coming authors, including Harris III and Kynan Bridges.
April titles:

From the bestselling series, Lady in Waiting, comes "The New Lady in Waiting," by Jackie Kendall. With all new insights, a new generation of young women will discover the benefit of waiting for God's best, and whether or not there is a perfect plan or if it's all just a fairy tale. The new book will be released in conjunction with a DVD-study and a Study Guide.
"The Illusion of More" by Harris III
"Total Turnaround" by Danette Crawford
May Titles

"90 Days to Possessing Your Healing" by Kynan Bridges
"The Mystic Awakening" by Adrian Beale
"Deep Relief Now" by Dennis and Jen Clark
June Titles

Bestselling author, Bill Johnson, is set to release his latest title, "The Supernatural Power of a Transformed Mind." In this compelling new book, Johnson delivers powerful and practical teaching, revealing how everyone is designed to bring heaven to Earth and how it all comes from an individual's thought life.
"Rediscovering the Principles of Kingdom Citizenship" by Myles Munroe
"God of Wonders" by Brian Guerin
"The Blueprints of Heaven" by Trevor Baker
"The Jonah Complex" by Greg Haslam
July Titles

Bestselling author of "The 40 Day Soul Fast," Cindy Trimm, releases her newest book, "PUSH." Trimm inspires her readers to go for it and join the ranks of great achievers.
New York Times bestselling author and evangelical statesman, T.D. Jakes, is set to release "When Power Meets Potential." In this book, Jakes shares the keys to fulfilling purpose and releasing potential. This book will be released in conjunction with a DVD study of the same name.
"Unlocking the Heavens" by Shane Warren
"Sons of God's Generals" by Joshua Frost
Interviews, review copies and giveaway copies are available upon request.
Destiny Image, located in Shippensburg, PA, was founded in 1983 by Pastor Don Nori, Sr. It seeks to accurately represent authors who have a call to share God's present word to His people and to make these authors easily accessible to the Christian body around the world in every form of media possible.
For press inquiries, interviews and review copies:
Kristen Adams
(717) 532-3040, Ext. 135
kadams(at)norimediagroup(dot)com