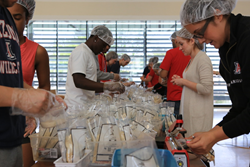 (PRWEB) April 10, 2014
Stop Hunger Now and the Loudoun County Virginia Chapter of Jack and Jill of America, Inc. are joining forces in the fight against hunger. More than 40 volunteers will package meals for the world's hungry on April 12, 2014, at Bricks 4 Kidz in Ashburn at 9:00 AM. Stop Hunger Now meal packaging events are a volunteer-based program that coordinates the streamlined packaging of highly nutritious dehydrated meals comprised of rice, soy, vegetables, flavoring, and 21 essential vitamins and minerals.
"The Loudoun County Virginia Chapter of Jack and Jill of America, Inc. has a long rich history of service here in the Loudoun County community," says Tracy Bunch, President of the Loudoun County Virginia Chapter of Jack and Jill of America, Inc. "This year, our national organization has taken on the mission to eradicate hunger. Partnering with Stop Hunger Now allows our families and especially our children to develop an understanding of the roles and responsibilities that we all must share for those living in our community and across the world who are in need. As president of the chapter, I applaud the energy, excitement and commitment by our membership to support this very worthwhile organization."
Around the world, more than 868 million people lack adequate food and more than 25,000 die each day from hunger-related illnesses. Stop Hunger Now operates meal packaging locations in 18 cities throughout the U.S. and international locations in South Africa and Malaysia. New locations opened in 2013 include Dallas/Fort Worth, Salt Lake City and Italy. More than 300,000 volunteers from corporations, churches, schools and civic organizations have packaged Stop Hunger Now meals.
Founded in 1998, Stop Hunger Now has delivered aid and disaster relief supplies in the form of food, medical supplies, clothing, school supplies, and more to thousands of disaster victims and other hungry and vulnerable people in 65 countries.
"We are honored that the Loudoun County Virginia Chapter of Jack and Jill of America, Inc. decided to sponsor and host this phenomenal event at our location," says Robin Burke, owner of Bricks 4 Kidz. "I am proud that we are able to participate in the effort to Stop Hunger Now, literally."
The event will take place at Bricks 4 Kidz located in The National Recreation and Park Association Building.
"What we want everyone to know is that hunger is solvable and is the common thread among the world's most challenging issues. When hunger is targeted, you give leverage and hope to every other cause including poverty, disease, education and the welfare of women and children," said Rod Brooks, President and CEO of Stop Hunger Now.
For more information contact Kate Millman, Stop Hunger Now Program Manager for the National Capital Region, at 757-503-2909.
Stop Hunger Now is an international hunger relief organization that coordinates the distribution of food and other life-saving aid around the world. The organization is driven by a vision of a world without hunger and a mission to end hunger in our lifetime by providing food and life-saving aid to the world's most vulnerable and by creating a global commitment to mobilize the necessary resources.
In its efforts to respond to emergency needs around the world Stop Hunger Now receives and distributes significant donations of in-kind aid. These donations are large quantities of food, medicines, medical supplies and other such items as may be of use in fighting hunger and providing relief in a crisis.
The Loudoun County Virginia Chapter of Jack and Jill of America, Inc.: The members of the Loudoun County Virginia Chapter of Jack and Jill of America, Inc. are committed to helping our children grow to greatness with programs that address: children's rights, leadership development, cultural awareness, financial literacy, recreation and philanthropic giving.
Bricks 4 Kidz: At Bricks 4 Kidz®, we believe it's important to tap into a child's potential by encouraging their curiosity and creativity. Our fun-filled model plans, which are designed by engineers and architects, provide an engaging platform that teaches children to learn with LEGO® Bricks. With our theme based project kits, we playfully motivate children by reinforcing S.T.E.M. based principles. We enhance self-esteem, improve fine-motor skills, and teach important classroom lessons such as organization and following directions.