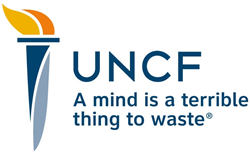 Washington, DC (PRWEB) April 10, 2014
Grammy-winning artists Jill Scott, the Isley Brothers, and Tye Tribbett joined the soulful Alice Smith, Sevyn Streeter, Marsha Ambrosius, August Alsina, and Spoken Reasons to perform at the 35th annual UNCF An Evening of Stars®. Actor-comedian Anthony Anderson returned to host the show for the second consecutive year.
Superstars Snoop Dogg, Usher, Jill Scott, Trey Songz, Queen Latifah, and the Will and Jada Smith Family Foundation participated in acknowledging student "Rising Stars" by presenting scholarships to them that will make a difference in their ability to finish college. Each scholarship represents a whole new kind of investment with greater return than money— it's an investment in Better Futures™.
UNCF An Evening of Stars® will air nationally on BET, Sunday, April 13 at 10 ET /9 CT and on Centric 12e/11c. The show will also air in syndication on May 31 and June 1 (check local listings for dates and times).
Other show participants included the Braxton sisters—Tamar, Towanda and Trina, along with Fonzworth Bentley, Keshia Chante, DJ Drama, Demetria McKinney, Sheryl Underwood, Salli Richardson Whitfield, and Mack Wilds.
This year's show was produced by Jesse Collins Entertainment and directed by Chris Robinson. UNCF An Evening of Stars® was also made possible by national sponsors McDonald's, Wells Fargo, and Target. Buick and Softbank were official sponsors and the City of Atlanta, BET and Clear Channel served as the city and media sponsors, respectively.
About UNCF An Evening of Stars®
UNCF An Evening of Stars®, formerly the Lou Rawls Parade of Stars®, first aired in 1979, and since that time has become one of the longest-running and most successful televised events in U.S. history. Over its 35-year history, UNCF An Evening of Stars® has raised more than $200 million that has helped hundreds of thousands of students attend college and graduate. In recent years, UNCF An Evening Of Stars® has featured a who's who of remarkable talent, including Stevie Wonder, John Legend, Chaka Khan, Ne-Yo, Nancy Wilson, Beyoncé, Anita Baker, Jill Scott, Whoopi Goldberg, Fantasia, Joss Stone, Jennifer Hudson, Michael Bolton, Natalie Cole, Herbie Hancock, Al Jarreau, Hall and Oates, Ziggy Marley, Maroon 5, and scores of others. UNCF An Evening of Stars® received NAACP Image Awards for its 2006 tribute to Stevie Wonder, its 2008 tribute to Smokey Robinson, and its 2010 tribute to Lionel Richie. Learn more about UNCF An Evening of Stars® at http://www.uncf.org/sites/aeos/.
About UNCF
UNCF (United Negro College Fund) is the nation's largest and most effective minority education organization. To serve youth, the community and the nation, UNCF supports students' education and development through scholarships and other programs, strengthens its 37 member colleges and universities, and advocates for the importance of minority education and college readiness. UNCF institutions and other historically black colleges and universities are highly effective, awarding 20 percent of African American baccalaureate degrees. UNCF administers more than 400 programs, including scholarship, internship and fellowship, mentoring, summer enrichment, and curriculum and faculty development programs. Today, UNCF supports more than 60,000 students at over 900 colleges and universities across the country. Its logo features the UNCF torch of leadership in education and its widely recognized motto, "A mind is a terrible thing to waste."® Learn more at UNCF.org.