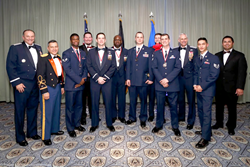 Suitland, Maryland (PRWEB) April 10, 2014
Andrews Federal Credit Union recently sponsored the 2013 US Air Force Awards Dinner at the SHAPE Club, located on S.H.A.P.E, in Mons, Belgium.
The event was held to award the top Promotable Grade Officers, Senior Non Commissioned Officers, Non-Commissioned Officers, and Airmen of the SHAPE/Chievres Community. The next step for these winners is to proceed on to the European Competition in Ramstein, Germany.
"It was an honor and a privilege to attend an event that recognizes the great achievements of our Air Force men and women," said Andrews Federal's Josh Barrett, Branch Manager, Chievres. "They do great things every day that go unheralded, so this small example is just the tip of the iceberg of their potential and accomplishments."
About Andrews Federal Credit Union
Andrews Federal Credit Union was founded in 1948 to serve the needs of military and civilian personnel by providing a vast array of financial products and services. With over $1 billion in assets, Andrews Federal has grown to serve more than 100,000 members in the District of Columbia, Joint Base Andrews (MD), Joint Base McGuire-Dix-Lakehurst (NJ), and military installations in central Germany, Belgium, and the Netherlands. In addition, the Credit Union serves as a financial partner with many select employee groups in Maryland, the District of Columbia, and New Jersey.
To learn more about Andrews Federal Credit Union and its community involvement, or to become a member, call 800.487.5500 or visit http://www.andrewsfcu.org.