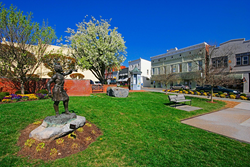 "Arbor Month is a wonderful opportunity for us to get involved in our communities and plant a tree." - Gov. Earl Ray Tomblin
Charleston, W.Va. (PRWEB) April 10, 2014
Gov. Earl Ray Tomblin has designated April as Arbor Month throughout the state of West Virginia.
"West Virginia is the third most forested state in the nation, with 12 million acres of forests. This vast renewable resource is important to our economy—providing thousands of jobs—in addition to providing animal habitats, countless recreation opportunities and contributing to our state's natural beauty," Gov. Tomblin said. "Arbor Month is a wonderful opportunity for us to get involved in our communities and plant a tree."
Officials from the Division of Forestry will assist communities throughout the state with tree plantings, Arbor Day events and Tree City USA award celebrations.
West Virginia's official Arbor Day is Friday, April 11, but many communities schedule celebrations throughout April and May.
National Arbor Day is the last Friday of the month – April 25 this year.
Julius Sterling Morton founded Arbor Day in 1872 in Nebraska. Morton found the treeless prairies of Nebraska to be detrimental to farming and began planting trees and shrubs to prevent the loss of valuable soil. The idea of Arbor Day gradually spread to other states and found its way to West Virginia in 1883.
For more information about Arbor Day events and West Virginia's forests, visit http://www.wvforestry.com.
# # #