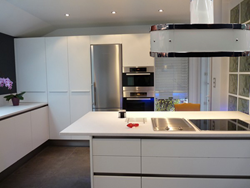 "Designers, architects, contractors and consumers loved the new design."Ramona Panus, PresidentRangeCraft Manufacturing
Fair Lawn, New Jersey (PRWEB) May 01, 2014
RangeCraft Manufacturing introduced their new "Halo" range hood design March 20th at the Architectural Digest Home & Design Show. RangeCraft has been unable to find any other manufacturers making oval range hoods. The "Halo" can be made in any metal like copper or stainless steel but also can be powder coated in over 200 RAL colors. Since every hood created by RangeCraft is Made To Order, one at a time, dressing up the "Halo" comes easy when adding rivets, bands, buttons or pot rails.
Company President and "Halo" designer Ramona Panus was delighted with the reaction Halo received at the Architectural Digest Show. "For decades RangeCraft has been know for its high quality work and unique designs but an oval has never been part of the conversation," states Panus. "Designers, architects, contractors and consumers loved the new design and hundreds of attendees stopped to take photos."
Since 1972, RangeCraft has been a leading industry manufacturer of high quality, custom designed metal range hoods. RangeCraft's Made To Order Hoods are available in over 25 product categories in a variety of shapes and sizes in copper, brass, stainless steel and decorator colors. Decorative bands, rivets and pot rails can be added to dress up the range hood. RangeCraft also offers universal inserts for wood hoods for kitchen ventilation. They can also create and manufacture a custom range hood designed just for you.
Each Rangecraft hood is made one at a time, with superior craftsmanship and the highest quality standards that RangeCraft is well known for. At RangeCraft, they specialize in individual orders, either standard designs or custom made to design ideas. RangeCraft range hoods are made to order by trained artisans right in their own factory in the United States. They are manufactured with powerful quiet fans, exquisite finishing detail and complete attention to crating for delivery direct to you, your designer or contractor.