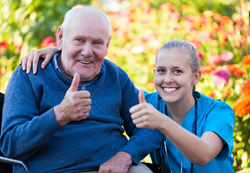 My Estate Broker can now help its clients find the perfect Senior Care Advisors anywhere in the United States.
(PRWEB) April 10, 2014
My Estate Broker, a respected one-stop-shop brokerage firm headquartered in Dallas, Texas, has just announced its expansion into all areas of the United States. My Estate Broker can now help clients from coast to coast find knowledgeable, compassionate Senior Care Advisors to help them find the right senior care options for themselves or their loved ones.
What is My Estate Broker?
My Estate Broker helps its clients find the Senior Care Advisors, real estate services, estate sale companies, and moving services they need at no charge to them. My Estate Broker houses all these services under one roof to help clients who are experiencing life's complex transitions – such as relocating, downsizing, moving a loved one to an assisted living facility, or liquidating an estate – find the services they need to accomplish their goals quickly.
My Estate Broker connects clients to Senior Care Advisors at no cost
My Estate Broker's referral service is completely free for clients. Partner businesses pay a small referral fee to My Estate Broker upon completion of a business transaction with a My Estate Broker client.
How does My Estate Broker connect clients to the Senior Care Advisors they need?
My Estate Broker works with its nationwide network of partner businesses to find clients the right Senior Care Advisors, real estate agents, moving services, and estate sale companies to meet their needs.
Step 1 – Clients visit http://www.MyEstateBroker.com and choose which services and locations they need.
Step 2 – My Estate Broker sends out notifications to all its partner businesses in the locations and industries the client has selected. My Estate Broker always keeps clients' contact information private, so clients don't have to worry about juggling spam emails or redundant phone calls.
Step 3 – Only the best-matched, top three companies will send bids to the client, and the client chooses which company they want to work with.
Why My Estate Broker?
When clients are referred to a Senior Care Advisor or other professional by My Estate Broker, they can rest easy knowing they will be doing business with a trusted expert. As a reputable brokerage firm, My Estate Broker only partners with reliable, honest partner businesses.
How to get started with My Estate Broker
To get started with finding the perfect real estate agents, moving services, Senior Care Advisors or estate sale companies, visit http://www.MyEstate Broker.com today.