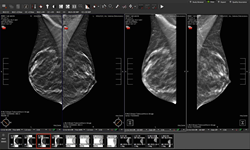 With 7.1.5, Visage allows imaging organizations the freedom to take back control of women's imaging, enabling the interpretation of multi-modality breast imaging studies, and all other diagnostic modalities, with a single viewer.
San Diego, CA (PRWEB) April 10, 2014
Breast imaging enhancements spearhead latest release
Visage Imaging Inc. ("Visage"), a wholly owned subsidiary of Pro Medicus Ltd. (ASX: PME), announced today that they have released version 7.1.5 of the Visage® 7 Enterprise Imaging Platform, including optimized navigation and tools, and significant speed enhancements to Visage 7's already industry-leading performance with massive digital mammography and digital breast tomosynthesis (DBT) studies. These new features further strengthen Visage 7's impressive breast imaging capabilities, providing a formidable single platform for enterprise imaging. Visage 7 enables enterprise imaging with amazingly fast, thin-client, server-side processing technology, as well as simple mobile access to imaging results via Visage Ease(SM).
Visage 7 continues to set the standard for enterprise imaging, enabling even the largest imaging organizations and health systems to dramatically transform the interpretation and delivery of medical images. Using a single powerful viewer, Visage 7 enables the multi-modality display of a full complement of radiology, cardiology and non-DICOM images, including comprehensive support for breast imaging workflow. For example, two DBT studies—a current plus prior —represents 12 Gigabytes of data when loaded via video card for the real-time display of full-fidelity data. Due to Visage 7's ultrafast server-side processing, the entire set of studies can be displayed in seconds even using cable-broadband network connections. In contrast, legacy PACS requires the 12 GB of DBT data to be transferred in advance to the reading workstation for radiologist interpretation. Best case transfer speeds of 12 GB of data over a 100 Mbps link is more than 16 minutes, and over a 1 Gbps link, more than 1.5 minutes. This legacy network transfer has to be performed predictively, off hours, and saturates at-risk networks. Instead, Visage 7 provides nearly immediate display. Visage enables imaging enterprises to stay ahead, providing radiologists and referring physicians nearly immediate access to DBT studies as they are needed, without artificial limitations to workflow.
Visage 7.1.5 includes the following enhancements:

Improved multi-modality breast imaging workflow, with multiple concurrent magnifiers, quadrant navigation, optimized mammography text overlays, DBT navigation and targeting tools, as well as improvements in lossless compression optimization resulting in even faster image display.
New balloon tool provides level-set segmentation from any thin-client.
Enhanced, yet simplified, sophisticated linking of multi-dimensional volumes.
64-bit support for Mac OS X.
Visage 7 Backend Server support for Windows Server 2012 R2.
Optimized enterprise-wide supportability and monitoring tools.
"Visage 7's server-side technology represents an imaging revolution, delivering on many of the attributes you'd expect and more, but perhaps unexpectedly, Visage provides freedom," said Dr. Sam Hupert, Chief Executive Officer, Visage Imaging and Pro Medicus. "With 7.1.5, Visage allows imaging organizations the freedom to take back control of women's imaging, enabling the interpretation of multi-modality breast imaging studies, and all other diagnostic modalities, with a single viewer. Visage 7 offers organizations a step-change of speed and accessibility that really has no compare due to Visage's server-side architectural advantages."
In support of the Visage 7.1.5 rollout, Visage is pleased to announce the "Visage 7.1.5 Private Screening", a tailored series of customer-focused web conferences. Each Visage 7 customer will be offered an exclusive, one-on-one introduction and demonstration of Visage 7.1.5. Customers are encouraged to contact Visage at support(at)visageimaging(dot)com, noting "Visage 7.1.5 Private Screening", with their preferred date and time for their personalized web conference.
In addition, Visage Imaging will be exhibiting at the upcoming Society for Imaging Informatics in Medicine (SIIM) 2014 meeting, May 15-17, Long Beach, CA (Visage Imaging Booths 331/333). To schedule a priority demonstration and/or meeting, please click here.
*Visage Ease is not a medical device and must not be used for diagnosis.
About Visage Imaging, Inc.
Visage Imaging is a global provider of enterprise imaging and advanced visualization solutions for diagnostic imaging. Visage 7 delivers amazingly fast server-side rendered images streamed via an intelligent thin-client viewer. Radiologists and referring physicians have a customized, protocol-driven workflow to natively view 2D, 3D, 4D and advanced visualization imagery across a single desktop. Powerful imaging solutions include enterprise viewing and interpretation; image enablement of EMRs, VNAs, HIEs and portals; RIS/PACS, as well as anywhere mobile access. http://www.visageimaging.com
About Pro Medicus Limited
Pro Medicus Limited [ASX: PME] is Australia's leading medical IT and e-health provider. Founded in 1983, the company provides a full range of integrated software products and services to hospital, imaging centers and health care groups worldwide. http://www.promedicus.com
# # #
Contacts:
Brad Levin, General Manager, North America and Vice President, Global Marketing
Visage Imaging, Inc./ Pro Medicus Limited
Phone: (703) 858-5758 or (540) 454-9670
E-mail: blevin(at)visageimaging(dot)com
Visage, Visage Imaging and Visage Ease are registered trademarks and service marks of Pro Medicus Limited. Other product and company names mentioned may be trademarks and/or registered trademarks of their respective holders.